High Flying Dice Games has released Bitter Heights
The Arab-Israeli War is brought to the tabletop with this board game about the battle for Mitla Pass.
PRESS RELEASE posted on 17 JUL 2012 4:56pm by Curtis Szmania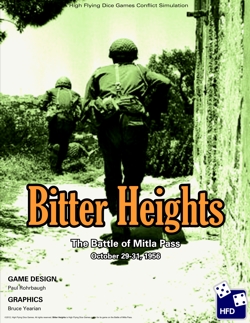 Bitter Heights has just been released by High Flying Dice Games.

Bitter Heights is a low-complexity game on the battle for Mitla Pass during the 1956 Arab-Israeli War. The Israelis were to take and hold the Pass to prevent Egyptian forces from reinforcing their counterparts to the east, as well as establish a credible force that could threaten the Suez Canal. This would provide the pretext for Great Britain and France to intervene and take the crucial waterway back from Egyptian control.

The battle would come to represent the confused and tragic aspects of this war. The Israelis underestimated the strength of their opposition, the indecisive actions of their British and French allies upon which this operation depended, and the diplomatic victory Nasser and the Arab Allies would realize despite the military defeats they sustained. General Sharon's controversial decision, to attack and take control of the pass in disobedience of direct orders, led to high losses in a fight that did nothing to further the Israeli cause.
Game Components
One 11" x 17" map sections

90 double-sided unit counters

Four pages of rules

One Player Aid Card