Roguelike strategy game For the King started out life as a board game before it came to screens, so you could say tabletop gaming is in its DNA. According to game designer Colby Young, founder of dev IronOak Games, it's a big part of the company's culture too; in fact one of the big questions when bringing new people onto the team was "do you play tabletop games?"
According to Young, the DnD influence in sequel For the King 2 is found in the way the title, releasing later this year, focuses so much on the "journey not the destination. It's very much about risk and reward and taking your chances. And working together and telling a great story as a party," he says.
Part of that DnD feeling comes from the sense of discovery that IronOak has worked to inject into the game, not least in its approach to easter eggs and unlocks, where Young says it has really leaned in. Everyone knows the joy of stumbling upon a new DnD magic item (or perhaps a nasty scrape with a DnD Mimic). In For the King 2, Young wants players to resonate with "that aspect of the hunt and finding the information you need to find the cool party hat in some crypt in a dungeon somewhere or something like that", and expects sharing information to be an important aspect of the game.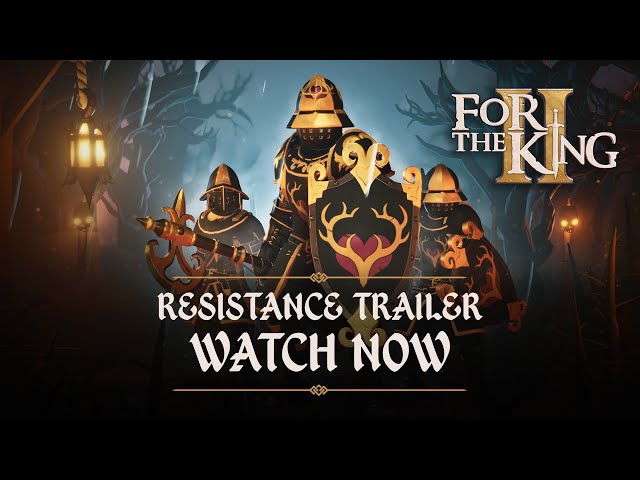 While, Young says, the story of For the King 2 is more in focus, and its plot less shallow than the first game's, it's the ability for players to tell their own stories and enjoy the journey rather than the destination that really gives For the King 2 a similarity to DnD.
Mostly, this is achieved through emergent gameplay. Young says, "For the King's made up of simple parts. We try not to over-engineer any particular system." Those simple systems can then "interact and evolve in ways that, as a designer, you don't need to anticipate and you end up getting emergent gameplay which is the best thing ever." He adds that he'll come across interactions that he didn't script in or plan for, like sending a party member into town to sell loot, only for them to be jumped by a wandering thief.
Young explains this means "You don't have to spoon feed a story to the players. They're making their own stories; they make their own decisions with the resources that they have… and both good luck and bad luck happens and that's what makes it so memorable."
"So we just give them an end goal and say, get to that destination by any means necessary. But that's the journey of getting to the destination. So no one's ever got the same story to tell when they reach the same place."
For the King 2 has no set release date just yet, though it's expected to arrive some time this year. Until then, check out the best turn based games, DnD games and games like XCOM to tide you over.