Painting teeny tiny minis for your Warhammer 40k army is tricky enough already, but what if you couldn't use your hands? In the first video on his new channel 'Mouth Painting Minis', posted January 27, quadriplegic hobbyist Drew Graham explains how he painted a kit-bashed force of sci-fi soldiers using his mouth and DIY tools.
Graham explains in the video that, following a spinal injury, "I can't use my legs at all and I've got limited use of my arms". He learnt how to paint on canvas with a brush held in his mouth while in hospital, but says "miniatures has always been something I didn't think was possible".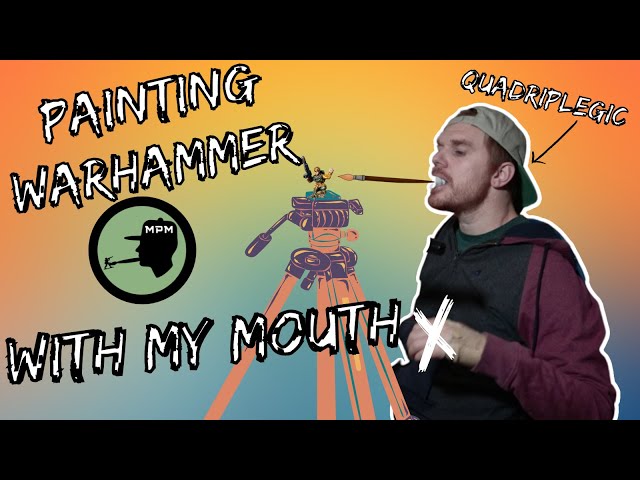 After wanting to paint minis for eight years, he finally took the plunge with a custom Astra Militarum regiment, the "Skarfell Mountain Rangers". Graham tells Wargamer: "I wanted to create the type of Astra Militarum regiment I hadn't really seen before". The Imperial Guard fields famous desert, jungle, and ice world fighters, but Graham adds "as far as I know I hadn't seen any mountain specialists yet."
The rangers are built from the WW2 Italians and Death Fields Cannon Fodder kits from Wargames Atlantic, a mini-maker that creates historical, fantasy, and sci-fi miniatures. Graham's friend Adam assisted with construction. According to Graham: "The models are slightly slimmer and a tiny bit shorter than Games Workshop's guard but part of the lore for the regiment is that they are wiry climbers and distance runners".
The Wargames Atlantic range is a good source of conversion bits for Astra Militarum regiments, while other parts of the Death Fields range would fit well into a few different Warhammer 40k factions, including the Leagues of Votann and Tyranids.
The video explains the tools Graham uses when painting miniatures. As he can't hold a model or painting handle, he mounts minis on a plate on top of a camera tripod. This provides a stable surface which he can rotate using the grip handle.
Brushes need to be modified for effective use while mouth-painting. Graham has a very DIY solution, slicing up spongy foam and sticking it on the end of the brush handle.
Graham worked from a white basecoat and used Army Painter Speed Paints for basecoats. If you're not familiar, Speed Paints are a kind of Contrast Paint, translucent paints that must be used over a white basecoat, and which pool into recesses and recede from edges to create shading and highlights in one coat of paint. He then dry-brushed highlights onto the models.
Graham tells us he got into wargaming with the "iconic" second edition Warhammer 40k starter set, which saw Blood Angels facing off against Orks. He says he's "followed the hobby on and off ever since".
He provides a detailed explanation of his injury on Reddit:
"I am C4-C5 incomplete. I don't have any movement below my chest or in my triceps, pecs, wrists or hands, but thankfully can move my shoulders and biceps, which helps me manipulate my arms. They are pretty weak though, and they can't push a manual chair." Graham also cannot move his hands or wrists.
Graham says at the start of his video that he hopes his new channel will demonstrate what is possible. We've certainly seen amazing ingenuity from wargames hobbyists, from a Ukrainian electrician who made a papercraft land raider to keep occupied during wartime blackouts, to an incredibly cheap alternative to 40k that uses rice to represent Napoleonic troop detachments.