World of Tanks and its mobile-first spin-off World of Tanks Blitz are getting themed challenges to mark the Lunar New Year. The Lunar Challenges will run across February, and offer you the chance to win a new Chinese medium tank and additional styles, aesthetically inspired by Chinese New Year celebrations.
World of Tanks' Lunar Challenge will run from February 12 to February 22, and challenges you to test your skills across ten stages. The missions of each stage are split into two groups – one for tiers six to ten vehicles, and a more challenging batch just for tier-nine and tier-ten tanks – so new players will need to grab themselves at least a tier six vehicle to benefit from this event.
If you do jump aboard and complete all ten stages, you'll earn yourself the new Chinese 122 TM medium tank, along with a Lunar New Year 2D style, equippable to any vehicle. Additional daily challenges can also be completed to earn a 3D style exclusive to the 122 TM, adorning the tank with red and white tapestries, replacing its missiles with fireworks, and sticking a golden-horned bull's head at the top of its main cannon.
Wargaming says the 122 TM is ideally used for long-range sharpshooting, with surprisingly thick armour for a medium tank and -8 degrees gun depression range that makes it well-suited to hilly terrain – although watch out for its lengthy reload time.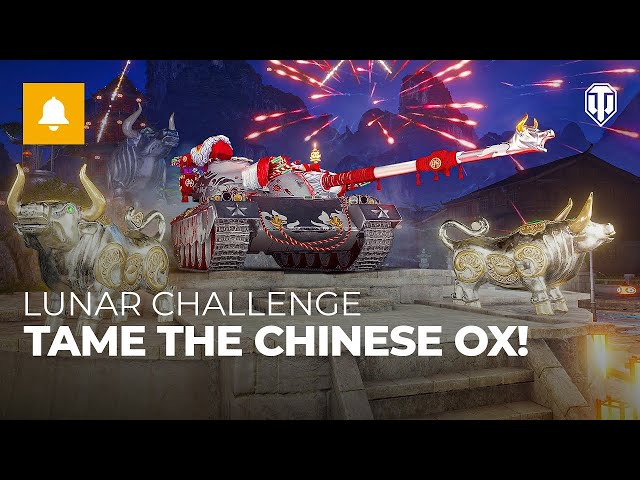 World of Tanks Blitz is also getting a Lunar Rising event, beginning today and running through to February 19. With nine stages rotating each day, you'll need to rack up a win once per day to unlock the equippable Red Lantern, Red Envelope, Mystic knot, and Lunar Ox, as well as the enigmatically-named camouflage – 'Unexpectable'.
If you fancy jumping back into World of Tanks but want to make sure your optimisations are on point, take a look at our guide to the best World of Tanks mods.