We're live at the Yu-Gi-Oh! World Championship 2023, taking place in person for the first time in four years and returning to the home of the game. This weekend, 28 of the world's finest gathered in Japan's capital to compete for the title of champion, each equipped with some of the best Yu-Gi-Oh! decks we've seen in live competition. For this weekend, Tokyo truly was Battle City, and the stakes couldn't have been much higher.
As expected, we saw plenty of Labrynth, Spright, and Kashtira Yu-Gi-Oh! TCG decks dominate much of the play during the early rounds, with all three sitting pretty at the top of the competitive metagame. That's not all, though. We also saw some mind-boggling strategies from Dragon Link, Swordsoul, Vanquish Soul, and Rikka Sunavalon decks, with all four performing well due to many not anticipating facing off against the slightly off-meta sets. Still, when the level of competition is this high, we're always expecting a few surprises.
After some pretty intense Swiss rounds, the top eight consisted of Gabriel Soussi, Jessica Robinson, Steven Santoli, Enzo Fiallos Velasco, Santiago Marín López, Jeremy Mitchell, Paulie Aronson, and Juan Mateo Augusto Renteria Pastor. What you might notice about that list of players is the absence of OCG representation, with the TCG contingent pulling a sweep for the first time in the history of competitive play. It's a strange coincidence, considering the return of the competition to Asia for the first time in five years.
With the quarter-finals still going on as the sun set over Tokyo, Mitchell, Aronson, López, and Renteria Pastor eventually emerged as the four heading to the semi-final stage. The big surprise up to this point was the strength of Jeremy Mitchell's Vanquish Soul deck, catching many opponents off guard through the course of the Swiss rounds and the quarters.
Unfortunately for him, Mitchell's Vanquish Soul deck couldn't best Aronson in the semi-finals, setting the latter up in a final showdown against the other semi-winner, Renteria Pastor. So, after months of competition, from nationals to regionals to this ultimate test in Tokyo, two remained to battle in a best-of-three for the 2023 title.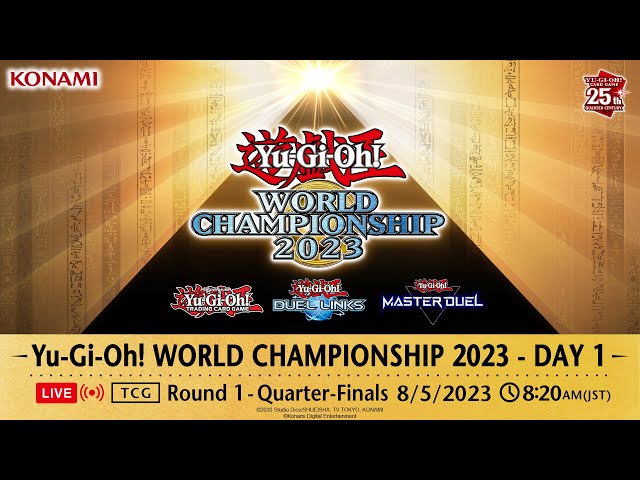 The final game came in the early Tokyo evening, with both Paulie Aronson and Juan Mateo Augusto Renteria Pastor walking out to a crowd eager for some top-tier dueling. That's exactly what they got, too, with Aronson setting up a stellar board of Dragon Link cards with a hand full of counters in his first turn. The tables turned quickly, with Renteria Pastor laying down two copies of Evenly Matched and stopping any Dragon Link chaos early on before attempting to set up his Tenyi Swordsoul monsters. It wasn't enough, though, and Aronson pulled out his counters, including an incredibly timed Effect Veiler, to steal the first game with a scoop from his opponent.
The second round saw Renteria Pastor take the first turn, attempting a Pot of Desires play, only for Aronson to answer with a devilish Ash Blossom & Joyous Spring, followed by a killer Effect Veiler on Renteria Pastor's first effect card to hit the field. If that wasn't bad enough for the duelist from Peru, Aronson had another Ash Blossom ready to go and used it once again to shut things down. Still, Renteria Pastor managed to hold his own, pulling off a couple of strong pokes to push Aronson down to 1400 LP and wiping his field with Nibiru, the Primal Being.
Then, Striker Dragon happened. For Aronson, this was the final piece of the puzzle, bringing together a game-ending combo that cared not for the frequent nightmare that is Nibiru. As the combo played out, you could watch Renteria Pastor accept his fate while his American opponent tied together cards in a beautiful tapestry that could only mean one thing. After just two rounds, Paulie Aronson is the Yu-Gi-Oh! World Championship 2023 winner, the first U.S. champion to ever take home the big trophy.
We managed to speak to both finalists before they left the venue to celebrate alongside the rest of this Yu-Gi-Oh! World Championship 2023 contingent. So, keep an eye out for some in-depth interviews soon. But for now, be sure to check out the videos above, and if you can, see Aronson's winner's speech. If you ever needed any proof that nice guys really can finish first, it's right there, with the new TCG champion lighting up the stage with his sheer joy and nervous disbelief. You truly love to see it.
With that, you're up to date with all of the action from the Yu-Gi-Oh! World Championship 2023, with North America's Paulie Aronson leaving Tokyo under his new title as this year's King of Games. For all the results from the digital formats, check out our sister site Pocket Tactics' coverage of the Yu-Gi-Oh! Master Duel World Championship and Yu-Gi-Oh! Duel Links World Championship events.