Who doesn't love playing the bad guy? Disney Villainous is a simple strategy game where players each take on the role of the nastiest ne'er-do-wells from the best Disney films. Everyone's got their own scheme to complete, and the race is on to reach the finish line first. You'll aim to complete the perfect plot the fastest, while throwing meddling heroes into your opponents' paths to try and halt their progress.
As you might expect from a Disney title, Disney Villainous makes a great family board game, but what you may not expect is that it's also got enough substance to easily entertain a group of adults. With engaging gameplay, tons of variety, excellent use of theme, and beautiful components, this is the ideal game to introduce kids to the world of strategy board games, or to delight the Disney fanatic in your life. Read on, to find out why it's earned a spot on our best board games list.
Beyond the fact that the idea of trouncing beloved children's characters is amusing, no matter your age, the chief trick that gives Disney Villainous its power is its asymmetric gameplay. Every villain in the game (there are six in the core box, but expansions add a couple dozen more) plays completely differently. Not only does everyone have their own objectives and unique deck of cards – featuring their awful allies and devilish tricks – to get to grips with, the heroes and obstacles each player faces is also tailored to them, designed specifically to mess with their plot.
So Maleficent aims to arrange a bouquet of curses, while heroes keep blocking and removing them. The Queen of Hearts just wants to enjoy a nice game of croquet and can shrink heroes down to size to avoid distraction. And Captain Hook must load his boat up with baddies, ready to fire the cannons once Peter Pan shows his face.
The way Disney Villainous integrates its theme through the different villains' objectives and gameplay styles is masterful, with loads of recognisable characters and events showing up on every players' board. This variety also means you can run through the game many times before you run out of new things to try. The villains all play very distinctly, with differing levels of complexity and challenge, so a knowledgeable player can hand them out to board gamers of different experience levels.
Overall, you may be surprised (given the kid-friendly theme) by the depth of Disney Villainous. In the grand scheme of things it's pretty simple, but if you go in expecting really light fare you may be in for a nasty shock. The game does require you to pay attention and fully get to grips with your own villain's objectives and abilities to have the best experience. However, the rulebook is well presented and, most importantly, each villain has their own little booklet designed to teach you how to play. These introduce you to your key cards and mechanics, and it's also a fun way to start a game off: reading a little secret dossier about your upcoming wicked schemes.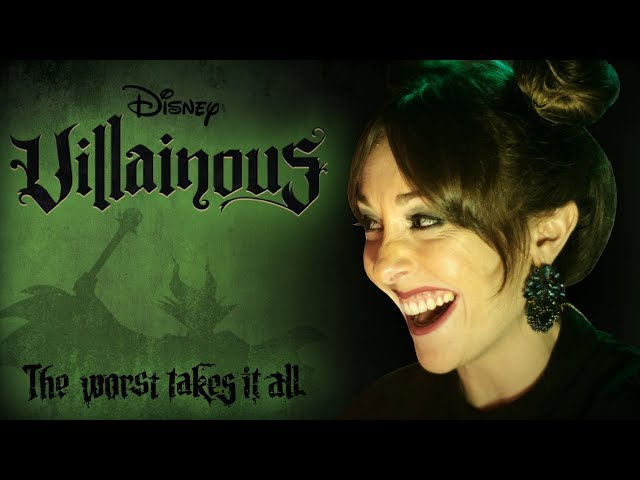 The other side of the coin, where the asymmetry is concerned, is it can be tricky for new players to know who is winning, when they're still trying to get to grips with what each villain is trying to achieve. This is relevant because of the game's Fate mechanic. See, in Disney Villainous, the heroes don't show up to save the day on their own. Instead, they're sent to cause trouble by the other villains. If a player seems to be getting a little too big for their boots, a little too close to winning, you can zap them, and make them draw a Fate card from their unique Fate deck. This is sure to be something lovely (and therefore terrible for a villain) that will set back your foe's plan. There's therefore a minor element of bluffing, trying to downplay how successful your game is going, but this element can be ignored entirely if you're not a fan of social deduction games.
The Fate mechanic is funny (it's fun to mess with people) and also crucial. Without it, Disney Villainous would be too insular, with everyone off in their own little evil worlds, doing their own thing. However, if you've young kids, it's worth considering if you want to avoid the conflict that comes with it – you are required to target another player in this game.
Disney Villainous can be played with up to six players, however in my experience it works best with about three to four. With too many crooks at the table, it's too easy to pile the Fate cards onto a winning player, which can cause games to drag a bit.
Something has to be said briefly about Disney Villainous' presentation because it is just top notch. All the components ooze style, from the gold trim of the box to impressive line art on the backs of the cards (not to mention the original illustrations on the front). It also features some of the best game pieces in board gaming – subtle, stylized figures that are still instantly recognizable (at least for the better known characters – you might struggle to place King John).
Which Disney Villainous version should you try first? The core box: The Worst Takes it All should probably be your first port of call, since it's the most cost effective way to get a lot of heroes. But after that there are so many, many Disney Villainous expansions to try. Perfectly Wretched is good if you want something more simple, while Wicked to the Core offers some of the most unusual and deep villains.
Disney Villainous is a prime example of what a good tie-in board game looks like. It's elevated to new heights by it's theme, but it's not entirely dependent on it. This would be a good game even if it wasn't attached to the House of Mouse – as is, it's the best Disney board game in town.
Disney Villainous is a simple but engaging strategy board game that Disney fans will adore and non-fans will enjoy.