Vermintide II, one of the best Warhammer games on PC or console, just gained three levels as part of free DLC from developer Fat Shark. The Karak Azgaraz DLC is bundled in with the latest patch for the game and contains three remastered levels from the original Vermintide, taking players deep into the Dwarf hold Khazid Kro.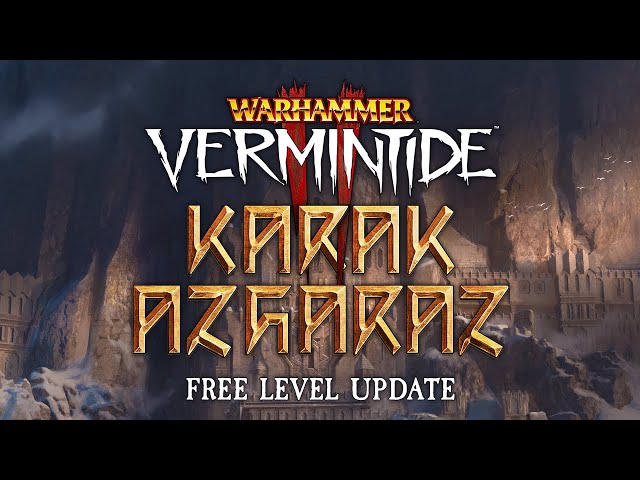 Fat Shark released Vermintide 2 in 2018 and it was, in theory at least, superceded by 2022's Warhammer 40k Darktide. While the gunplay in Darktide is immaculate the game released with plenty of bugs and a disappointing endgame. Vermintide 2 is sitting pretty on Wargamer's list of the best Warhammer fantasy videogames because, well, it really is superb.
In case you've missed it, Vermintide II is a four player co-op FPS with a focus on melee combat, hordes of Skaven rat-men enemies, enormous boss monsters like Rat Ogres and Chaos Spawn that make your life miserable, and a little bit of friendly gear grinding. It's set in the Warhammer Old World, in the run up to the 'End Times' that blew the whole setting up to make way for the Age of Sigmar.
It's clearly inspired by Left4Dead, and if you were disappointed by that game's spiritual successor Back4Blood we can't recommend Vermintide 2 highly enough. Though Vermintide 2 was never a runaway hit like Destiny or Rainbow Six: Siege, it retains an active player base. It's a good sign that there's enough activity to justify new (or at least, recycled) content from Fatshark.
Not every classic Warhammer game is a hit, but this does tempt us to delve into the back catalogues of Warhammer and Warhammer 40k games on PC while we wait for our next hit of modern Warhammer gaming – we're tracking the Warhammer Age of Sigmar: Realms of Ruin release date eagerly. In the meantime, a little original Dawn of War, perhaps, or maybe even some Final Liberation for those peerless '90s FMV cutscenes?