Arma 3 is entering the art world, with a new DLC that adds an in-game art gallery to the military simulator. Released yesterday, the Art of War Charity Pack DLC includes an exhibition showcasing a selection of Arma 3's community artworks, models, and screenshots, alongside a new single player mission, and a variety of new cosmetic items. It's available now for $1.99 / £1.99, with all proceeds donated to the International Committee of the Red Cross (ICRC).
The added in-game gallery displays the winning entries of last year's Arma 3 Art of War community artwork competition, allowing players to move around the gallery and observe the artworks displayed within. The competition invited players to create digital artworks and models to feature in the showcase, to raise money for charity. Entrants could create 3D props, accessories, or clothing, and 2D art pertaining to the theme of International Humanitarian Law in future conflict, as well as submit entries for the bonus screenshot category.
The DLC also adds a new single player mission scenario, entitled Showcase Cultural Property, that tasks you with recovering and protecting a stolen artwork in the middle of a warzone. New cosmetic items have been added, including a formal suit available in several colour combinations, military parade uniforms for several nations, various t-shirts with artwork graphics, and a new civilian backpack.
A variety of props related to art galleries, such as frames, canvases, and easels, as well as objects related to war memorials, such as folded flags, photo portraits, and coffins, are also included in the DLC, intended to support roleplay within Arma 3, and user-generated content.
The Arma 3 Art of War DLC can be purchased for $1.99 / £1.99, or at two higher, optional price tiers, $4.99 / £4.99 and $9.99 / £9.99, for those wanting to donate more money to the ICRC. All three tiers contain the same content. The DLC will also be made free towards the end of this year after the initial fundraising period has ended, presumably to give access to those players who can't afford its price.
The ICRC is a global humanitarian organisation, which works to provide protection and assistance for the victims of armed conflicts and violence.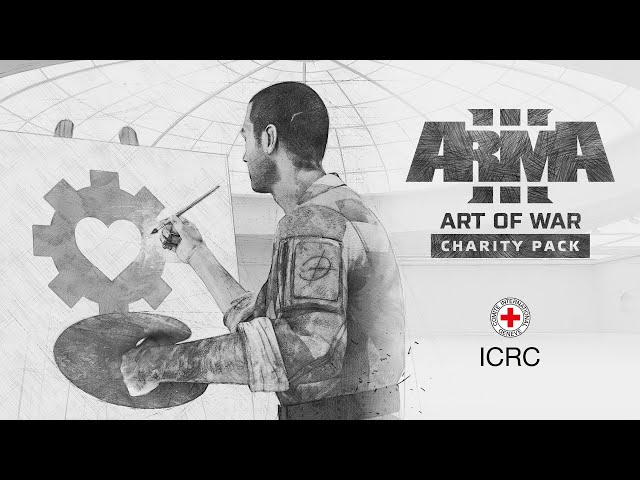 In a press release, Bohemia Interactive said it hopes its collaboration with the ICRC will raise awareness about International Humanitarian Law and the protection of cultural property in armed conflict. The two organisations have collaborated in the past on Arma 3's Arma Laws of War DLC and its Make Arma Not War modding contest.
If you would like a rundown of all the other Arma 3 content available, read our Arma 3 DLC guide.