Third-party Dungeons and Dragons publisher Kobold Press has announced a monstrous sale, discounting a range of DnD books dedicated to DnD monsters. The DnD books on sale include titles from the Creature Codex and Tome of Beasts series. These books are 20% cheaper all through July.
As well as physical copies, the PDF and Foundry virtual tabletop editions of each book are also available at a discount. It's important to note Kobold Press' books aren't compatible with V.11 of Foundry.
The cheapest version of Creature Codex is its softcover pocket edition, which currently costs $19.99. A PDF has been discounted to $23.99, while the hardcover is now ten dollars off at $39.99. The VTT version is available for $31.99. Creature Codex: Lairs also has a softcover edition available at $12.79 and a PDF for $7.99.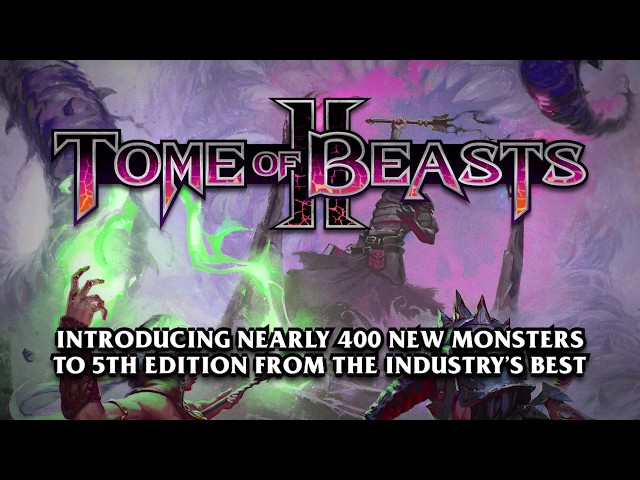 Tome of Beasts 2's hardcover edition is already sold out, but the pocket edition and PDF version are still available at $19.99 and $23.99 respectively. Tome of Beasts 2: Lairs is also on sale, with its physical version costing $15.00 and its PDF available for $11.99.
As well as Tome of Beasts 2, you can pick up Tome of Beasts 3 in the sale. A limited-edition hardcover is available at the discounted price of $63.99. A regular hardcover currently costs $39.99, and the PDF is on sale at $23.99. There's also a Tome of Beasts 3: Lairs PDF for $19.99, and a VTT Foundry edition for $39.99.
You can find these discounted DnD books on the Kobold Press website.
As well as its third-party D&D content, Kobold Press has more recently become known for developing a 5e rival, Tales of the Valiant. Described as "DnD 5e with teeth", Tales of the Valiant adopts the ORC License developed by Pathfinder publisher Paizo instead of the DnD OGL. You can learn more about Tales of the Valiant in our interview, where Kobold Press discuss the challenges and opportunities of adapting DnD.