Superhero miniatures game Marvel United is getting a mutant standalone expansion, with an X-Men spin-off hitting Kickstarter yesterday. Generating over three times its funding goal in less than four hours, Marvel United: X-Men adds the titular superheroes and their villainous counterparts to the cooperative board game, with each mini modelled on their classic comic costumes. A Kickstarter-exclusive Apocalypse expansion is included in the campaign, which will run until May 6.
Assembling a team of mutant heroes, the game challenges you to stop the nefarious plots of powerful villains taken from the X-Men comics line. The core box includes the familiar Wolverine, Jean Grey, Cyclops, Storm, Beast, and Professor X as playable heroes, alongside Sabretooth and Juggernaut as enemies.
In a twist to the base game, Marvel United: X-Men will add an optional competitive game mode, allowing one player to control the villain, as they attempt to scupper the other players' plans. Magneto and Mystique, are also included in the core box, and can be fielded as either heroes or villains, depending upon your daily depravity.
The crowdfunding campaign also includes several exclusive elements for the game, including classic X-Men antagonists Toad, Blob, and Pyro. A separate Apocalypse expansion pack adds the classic supervillain to the game, as well as his four lieutenants – Famine, War, Pestilence, and Death. The expansion brings new location tiles, 'threat cards', and 'master plan cards', as well as additional minis.
Several Kickstarter-exclusive stretch goals have already been unlocked for the campaign, that, at time of press, has raised just under $1,000,000 / £725,400 in less than 24 hours. Each goal unlocks a new hero or villain miniature, alongside several accoutrements, so far spanning the magnetically attuned Polaris, the avian-obsessed Deathbird, murderous magician Arcade, and more.
You can grab the core Marvel United: X-Men box, along with all stretch goals, for $65 / £47. Up your pledge to $100 / £72, and you'll also net the Horsemen of Apocalypse expansion, as well as an exclusive Mohawk version of Storm's miniature. All expansions previously released for the base game are also available to purchase through the campaign, including the Infinity Gauntlet, Sinister Six, and Black Panther add-ons. Games are expected to ship in May 2022.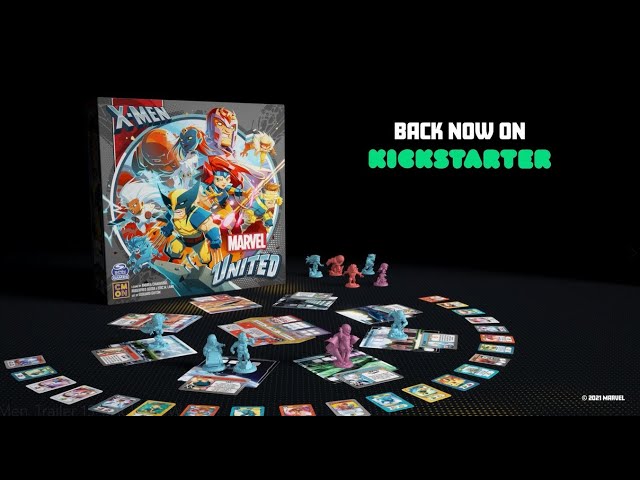 Released last year through Kickstarter, the Marvel United base game has you control various Marvel heroes, and cooperatively thwart notorious villains using straightforward card-playing mechanics. Players place cards and combine their actions to rescue civilians before taking on the head honcho.
If you're keen to expand your tabletop portfolio, but can't wait until next year for Marvel United: X-Men, read our guide to the best board games for adults, and see what takes your fancy.