Publisher Focus Home Interactive yesterday revealed its new Warhammer 40k videogame. Necromunda: Hired Gun is a first-person shooter, set in the titular Hive City of cybernetic gangsters and industrial dystopia. The announcement trailer (watch it below) shows off some reverently-40k-worthy gore and gothic visuals, mixed with a dollop of parkour platforming. The upcoming game will release on PC and consoles on June 1.
A single player shooter, you'll take the role of a bounty hunter taking on contracts and dispatching targets in the Hive City of Necromunda – a densely populated, industrial dystopian nightmare, replete with a totalitarian regime, gang warfare, villainous scum, and cybernetic enhancements. Expect to be dealing with the territorial gangs and mutants that lurk in its belly, as you shoot your way to your bounty.
Aside from some vicious gunplay and melee combat, complete with exaggerated gore, the trailer also shows off some surprising parkour gameplay. You'll be able to wall-run across chasms, use a grappling hook to traverse environments, and double-jump your way over distances. Its combination of fast-paced movement and close-combat finishers looks reminiscent of 2020s Doom Eternal, or 2016s parkour-heavy Titanfall 2.
And you won't be doing all of this killing alone. A cybernetic dog will accompany you on your adventure, able to follow your murderous commands, insta-kill enemies, and warn you of any approaching combatants. Speaking in a press release, Focus Home says your cyber-mastiff is "half-dog, half-robot, and ready to kill for you in exchange for treats". Oh, and it can be pet, like all good dogs can.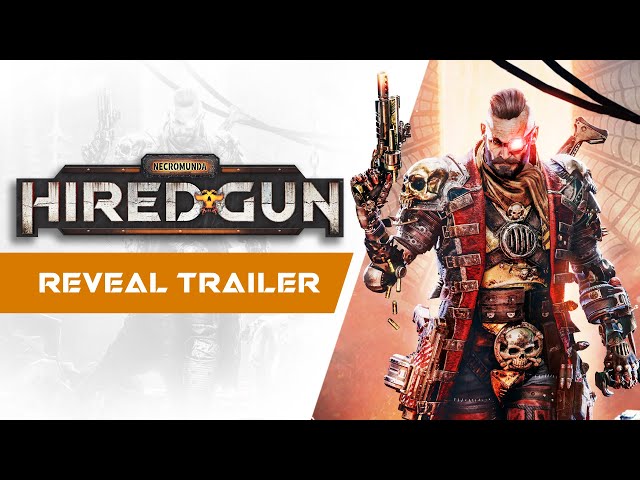 Focus Home says you'll be able to use bounties to amass a "sprawling arsenal" of weapons, and acquire additional combat upgrades. Expect to enhance "everything from your brain to your legs to your pet dog", although exactly what that means remains to be seen.
Necromunda: Hired Gun is being developed by Streum On – the makers of 2016 Warhammer 40k FPS, Space Hulk: Deathwing – in collaboration with Games Workshop. It has reportedly been designed to provide the most "authentic eye-level look" at the underbelly of Necromunda, and will release on PC PlayStation 5, Xbox Series X|S, PlayStation 4, Xbox One.
This might actually be a 40k videogame worth getting optimistic about.
Necromunda is one of the more popular settings and subfranchises of the 40k universe. The 2017 miniatures skirmish game Necromunda: Underhive brought the location back to the tabletop, and last year's Necromunda: Underhive Wars took its gang warfare to the videogame space.
If you're keen to brush up on your 40k lore before Hired Gun hits the shelves, read our Imperium factions guide to get the lowdown on man's place in the 41st millennium. Or take a gander at our Chaos and Xenos guides for more flavour.