TimeSplitters might have never made it to the tabletop, but its legacy will. Mantic Games, the tabletop publisher behind fantasy wargame Kings of War, is back with another miniatures board game, inspired by the multiplayer game modes of beloved videogame TimeSplitters 2. Titled OverDrive, the two-player matched battler apes many of the videogame's competitive modes, and includes a suitably zany roster of sci-fi characters.
Described by Mantic Games as an "arena-based sports game", OverDrive hands you control of a team of three 'giants' to duke it out in a king of the hill-style match. You'll be racing your players across a hex-gridded game board to an activated scoring area, while attacking your opponent, and activating various abilities to slow down their advance. With only a few possible actions to choose from (move, hit, or shoot), Mantic says it intends OverDrive to be a rules-light board game that can be quickly picked up and played.
While the game's standard mode is designed to ease you into its basic system, it includes six alternate modes that introduce additional mechanics, including Pass the Bomb, Capture the Flag, Invade, Killstreak, and Dodge Brawl. Some of those might be recognisable to TimeSplitters fans, and were inspired by the videogame's varying multiplayer game modes.
"What I really wanted to do is make a game that was inspired by videogames; a format of game that would be familiar to people that have played a lot of videogames," said Rob Burman, OverDrive's designer, in Mantic's Summer Preview livestream,
"It takes a lot of its cues, and this is showing my age here, from TimeSplitters 2. That was one of my favourite videogames for multiplayer, and that's what I wanted to do: create a game that could be played in a number of different ways," he added.
OverDrive's playable characters also ape the whacky personalities of the TimeSplitters videogames. Although you won't find the moustachioed Harry Tipper or the hooded chassis of Gretel Mk II in the game's core box, it does include six available characters of suitably weird designs. Karadon is an anthropomorphic shark, Skarathron is a giant robotic spider, and Synechdoche is a "space jellyfish".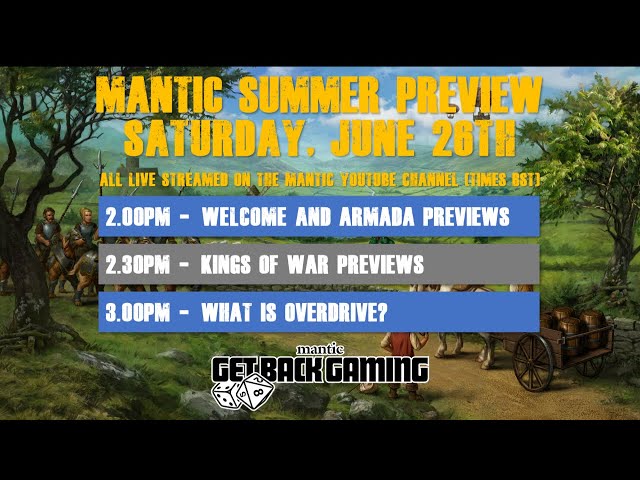 Mantic says each character has particular gameplay abilities and strengths. The Spawn, for example, is adept at moving opponent players around the pitch, and getting himself into a prime position. Karadon, meanwhile, is a more aggressive character, better at dealing lethal hits to the enemy.
You'll pick three characters to join your team at the start of each game, with players taking it in turns to choose their picks one after the other (similar to how football teams were chosen on the school playground). The idea is for each player to use a wholly different team from their opponent, and pick a different combination of characters each time they play.
OverDrive is set in Mantic Games' existing Warpath Universe – a sci-fi setting of intergalactic war between humanity and alien empires – and has an estimated playtime of 60 to 90 minutes.
If you're keen to dive into the world of tabletop gaming, read our guide to the best board games, or rummage through our picks of the best strategy board games if you fancy yourself a budding tactician.