Tabletop RPG Pathfinder is getting a new line of digital one-shot adventures, starting with a swashbuckling escapade through a pirate dungeon. Debuted in an actual play Twitch live stream during Saturday's Gen Con spring showcase and a blog post on publisher Paizo's website, Sundered Waves will be the first of several Pathfinder digital-only one-shot adventures coming this year, each containing pre-generated characters, complete narrative material, and maps. It can be downloaded now for $5.00 / £3.60.
Sundered Waves is a treasure-hunting pirate adventure, pitting your party of old pirate chums in a hunt for the hidden booty of your deceased captain. You'll have to put aside your disagreements to navigate a puzzle-filled pirate dungeon for one last shot at fame, riches, and glory.
The adventure's pre-generated character sheets are available as a free download now, so you can take a look at those on offer, including: Kaako Ashfeather, a tengu sailor who has known only the life of a pirate, Lavanna Saltspray, an undine slave-turned-merchant cleric, Elsir Syniras, an elf sorcerer who found a home in a pirate crew, and Jadren Tagar, a human fighter whose origins as a street urchin led him to a life of piracy. All have served in the pirate crew of Captain Renlock and have a stake in the treasure you seek.
Intended to be completed in a single session, the new series of one-shots have been written with three to four hours of game time in mind, with each including a roster of pre-generated characters alongside stat sheets, pre-written backstories tied to the adventure to foster cooperative storytelling, and character illustrations. Paizo says the adventures have been written to allow players to jump into a game straight away, and can be incorporated into virtual tabletop platforms, printed and played on a table, or run from their PDFs.
The digital one-shot also comes with maps and image handouts for gamemasters to use in the adventure, which have been designed for use with virtual tabletop platforms.
Sundered Waves was written by Jason Bulmahn, Paizo's Director of Game Design, who has been a staple writer on Pathfinder since its release in 2009, contributing to its Core Rulebook, Bestiary, and a slew of other adventure and sourcebooks.
Paizo says it currently has no plans to release physical, print versions of the new line of one-shot adventures, but plans to follow Sundered Waves with two more one-shots at the publisher's annual convention, PaizoCon, later this year – one for Pathfinder and the other for sci-fi spin-off Starfinder. Expect more details of the upcoming adventures in the coming weeks.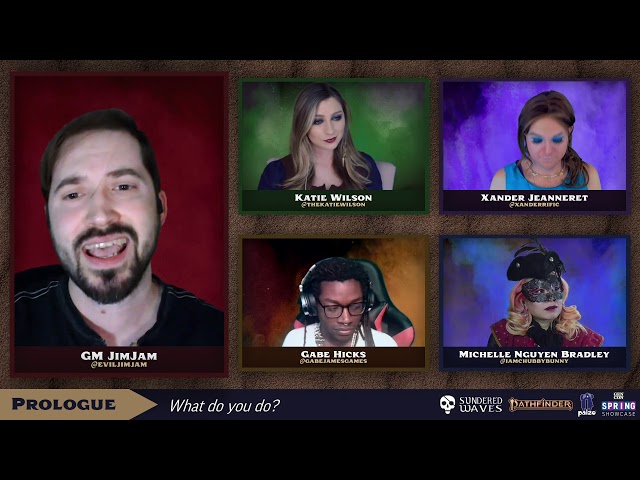 Like the sound of a pirate treasure hunt but not sure where to begin with Pathfinder? Read our Pathfinder classes guide to get started creating your own character.