The team behind easy-to-use DnD map maker tool Dungeon Scrawl is partnering with virtual tabletop Roll20, and is exploring the potential for live map-making during games of online DnD. Roll20 announced the partnership on Twitter on Thursday.
Roll20 Principal Product Manager Andrew Searles describes Dungeon Scrawl as "simple, accessible, versatile, and elegant". Wargamer agrees – it has a place on our list of the best DnD map tools. It's a browser-based app that's very stable, and has a singular focus on constructing old-school inspired dungeon maps quickly and easily.
In an AMA post in the Roll20 forums, Searles says that the two teams are actively exploring these new features for Dungeon Scrawl:
Seamless map exports to Roll20 games
A shared library of images and scenes/maps
Cloud storage for maps
A video demo gives a mock up of what it might be like if Dungeon Scrawl could run inside Roll20, allowing DMs to map the dungeon in real tmie while using the rest of Roll20's features.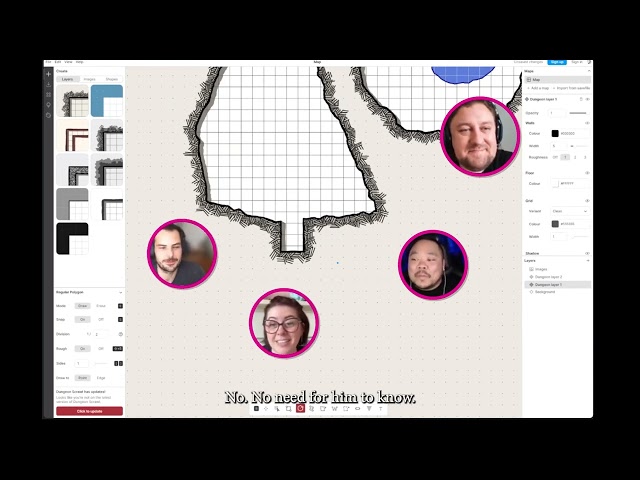 Searles states that "When surveyed, over half of Dungeon Scrawl users asked for a VTT integration". However, an FAQ on the Roll20 website notes that "there is no timeline" for when this, or any other kind of integration, might be up and running.
Fans with a Dungeon Scrawl subscription may be concerned that the partnership will affect the cost of Dungeon Scrawl, or access to its features. According to the Roll20 FAQ about the partnership, "We do not have any changes planned to the Dungeon Scrawl subscription functionality at this time". The FAQ also states that Roll20 plans to keep the independent DungeonScrawl website alive and well.
Searles states in the AMA that "Dungeon Scrawl's free features will remain available to everyone for free on dungeonscrawl.com. That means unlimited maps, exports to .png, isometric support, and more". The FAQ does note that future new features may be tied to a free Roll20 account.
If you're already a DungeonScrawl user and this has piqued your interest in Roll20, check out our tutorial on how to play RPG games in Roll20 – we've recently overhauled the guide to be more up to date and much more comprehensive. If you haven't tried DungeonScrawl, give it a go! It's a brilliant tool to use, whether you're whipping up a homebrew campaign or just a DnD one shot.