Paradox Interactive has announced its next Victoria 3 DLC Voice of the People, showing off the new expansion with a glitzy, dramatic trailer (watch it below). As well as a general overhaul for France, this 'Immersion Pack' DLC adds a selection of more than 60 in-game characters called Agitators (including Vladimir Lenin, Rosa Luxemburg, and Karl Marx), which Paradox says will "shake up your internal politics".
"Agitators serve an opposite function to Interest Group Petitions which reflect the demands of the political elite," Paradox explains in a dev diary posted on Thursday.
"Depending on how your goals align with theirs, Agitators might be a painful thorn in your side or a valuable ally to your political agenda."
It seems you'll be able to send specific political agitators into exile, or invite others into your country, at will, in your efforts to shape your country's political equilibrium – but, judging by the trailer, they're more often about, er, destroying the equilibrium? We'll see…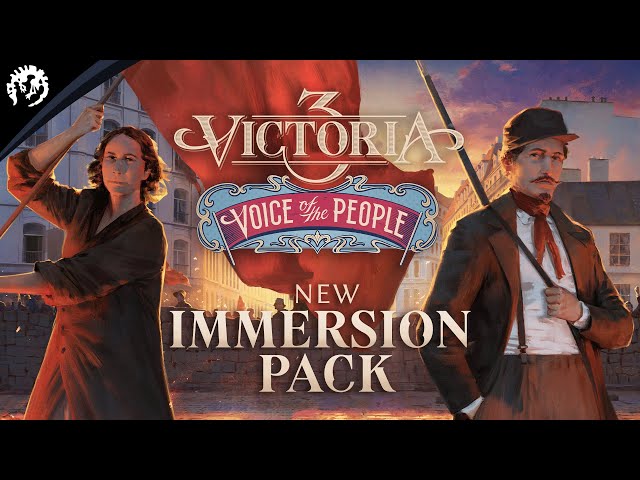 Voice of the People is scheduled to be released on May 22 alongside the game's free Patch 1.3 update, and you can pre-order it now for $14.99 (£12.99). However, if you already bought the Grand Edition of Victoria 3, you'll get the Immersion Pack for free.
Alongside the top-up of revolutionaries, Paradox says in its Thursday dev diary that Voice of the People adds "a healthy dose of content" to beef up the in-game experience of playing as France. While it doesn't include full details, Paradox does promise "ample new Journal Entries and Events" including "the Paris Commune, the Dreyfus Affair, and the dynastic struggle for the French throne".
On the visual side, Voice of the People includes "a beautiful baroque blue UI skin, but also a totally new French-themed paper map of the world".
If you haven't tried out Paradox's latest alternative history simulator, read our full Victoria 3 review to get the lowdown (the skinny: it's very good indeed). If you like your strategy a little less grand, why not peruse our guides to the best RTS games and the best 4X games on PC?