Real-time naval tactical wargame War on the Sea finally dropped on Steam yesterday, courtesy of Cold Waters publisher Killerfish Games. Featuring submarines, warships, merchant convoys, and aircraft carriers, the game sees players command naval fleets to secure the waters of the South Pacific across a dynamic WWII campaign.
Killerfish Games says War on the Sea's buoyancy and damage models were freshly-developed for this release, but the game was heavily inspired by classic digital naval wargames such as "Great Naval Battles" and "Task Force 1942" – both in its combat and damage systems, and the setting and scope of the campaign.
Missions are based on historical naval engagements, as you take command of the Allied forces or the Imperial Japanese Navy competing for domination of the Solomon Islands, and completing strategic objectives in the Battle of Guadalcanal. The game features over 50 classes of playable ships to command, as you attempt to out-manoeuvre and sink enemy vessels while fighting fires, emptying flooded compartments, and repairing subsystem damage caused to your ships to keep them afloat and combat-ready. Carrier aircraft can also be sent out to attack enemy ships.
Alongside the historical campaign, the game comes with a 'Battle Editor', through which players can generate and customise engagement scenarios. These can be tailored to recreate historical battles, or take a more fictional approach to naval warfare. Ships and aircraft can be placed into the scenario, and enemy AI routes plotted to sketch out specifics of the battle. Matches can be saved and resumed mid-battle.
Killerfish Games is no stranger to tactical naval warfare, previously releasing Atlantic Fleet, Pacific Fleet, and the praised Cold Waters.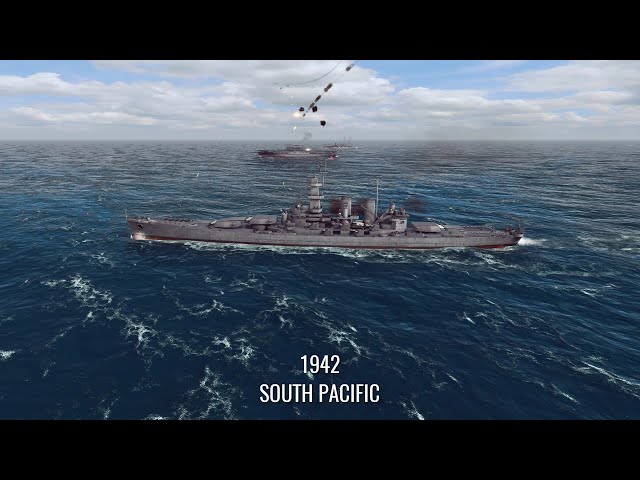 Keen to take your place as an admiral and command a fleet of warships? Check out our guide to the best naval games.