A new teaser trailer for Angels of Death, the first officially licensed Warhammer 40k animated series, was unveiled yesterday. Typically concise, the new trailer reveals the mutant Genestealer Cults to be the antagonists of the series, and hints at the level of bloody gore we can expect from the action-focused show. A release date is yet to be announced, but you can watch the trailer below.
Clocking in at less than a minute, the new trailer shows the protagonist Blood Angels fighting off against xenos-worshiping Genestealer Cultists, with characteristic bloodthirsty rage. Some Astra Militarum infantry are doing what they do best – looking gormless and running around. The animation is in greyscale, with the red hue of the Blood Angel's armour, fired bolter shots, and muzzle flashes colourised for accentuation.
Announced back in 2018, Angels of Death follows a band of Blood Angels – one of the oldest Space Marine chapters and particularly well-known for their bloodthirsty tendencies – searching the worlds of the grimdark future for their missing captain, while uncovering a hidden dark force along the way.
While Angels of Death was first slated to release in 2019, and updates on its timeline haven't been forthcoming, Games Workshop said yesterday that eager fans can "rest assured, your wait is nearing its end".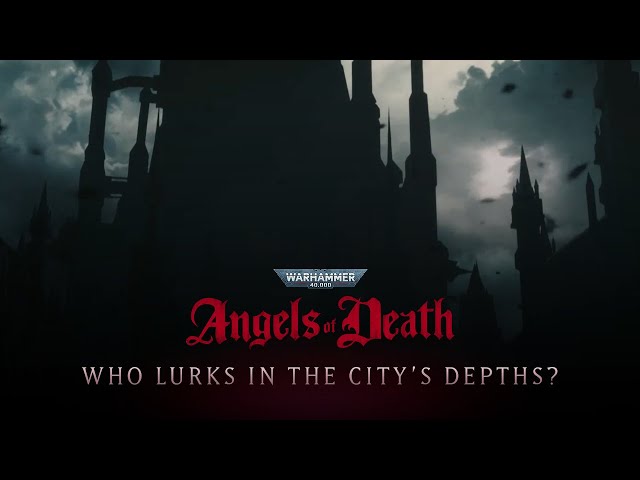 The animated series is being produced in collaboration with director Richard Boylan, who worked on the 40k fan-made animated series Helsreach that ran from 2017 to 2019, the 2018 live-action short-film Guardsman, and previously as a cinematic designer at EA, contributing to several triple-A titles including Star Wars Squadrons and Mass Effect 3.
The animated series is also being written by the Warhammer Storyforge team, who has penned many of the books in Games Workshop's Black Library – the firm's series of Warhammer fiction novels.
And Angels of Death isn't the only animated adaptation of Warhammer 40k incoming. Last month, Games Workshop revealed it had hired Syama Pederson, maker of the popular and unofficial Warhammer short-film series astarted, to create a sequel, and commissioned three other external parties to collaborate on new in-house projects.
Among these are: Lost Legion studios to work on the T'au-focused The Exodite, PixelArt to collaborate on the Black Templar Space Marine series Primaris: The Last Templar, and Codex Film to produce Iron Within, a tale of the Iron Warriors Chaos Space Marines.
Keen to watch a squad of Blood Angels tear through the squishy flesh of mutants, but want to understand the lore as well as bask in its action? Read our Warhammer 40k: Imperium and Xenos factions guides, to get started.