Warhammer RTS Realms of Ruin will launch with a replayable single-player Conquest Mode, as well as its previously revealed narrative campaign, according to Frontier Developments. Details of the new game mode, which applies roguelike elements including randomised gameplay twists to the core RTS gameplay, were revealed in a press preview prior to Gamescom.
Conquest Mode will allow you to play with all four of the game's Age of Sigmar armies, including the newly-revealed Nighthaunt. It's a score-chasing challenge, in which "players will face a variety of procedurally generated" 1×1 missions as they journey across a world map.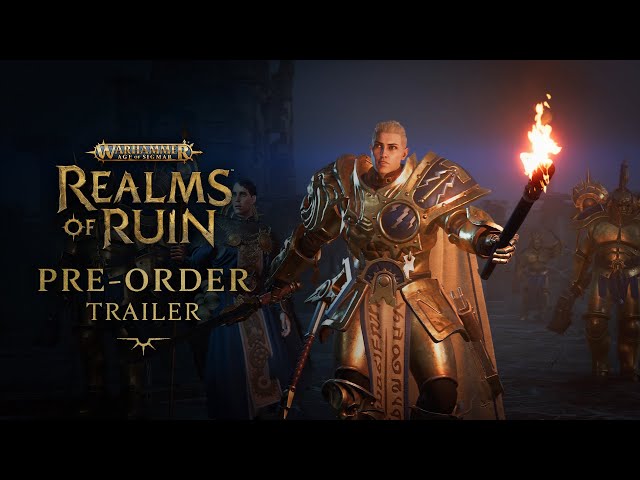 These missions use "rule-breaking twists" to "transform the conditions of conflict", according to Frontier's press release, tinkering with movement speeds, unit vision range, time limits, or "a myriad of other unpredictable factors".
Though Frontier doesn't mention an online leader board, it does state that you'll have to choose between grabbing additional lives, or raising your "bonus modifier", as each run progresses.
In the two Realms of Ruin previews Wargamer has attended so far, we've been struck by the exceptional quality of the storytelling in the game's narrative campaign.
We've played the first three story missions, and while they suffer from the standard RTS campaign problem of essentially serving as tutorials for multiplayer, the cutscenes leading into them are superb, scripted and choreographed as well as some shows on Warhammer TV.
That quality may be because the story has been penned in part by prolific Warhammer book author Gav Thorpe. So far, that campaign only allows you to take control of the Stormcast Eternals, and we suspect that the scope has been limited intentionally to ensure it's delivered to a high standard. If that's the case, Conquest mode will give single-player RTS fans more to do than just repeated skirmish matches against the AI.
Wargamer is eagerly anticipating the Realms of Ruin release date. The core gameplay loop borrows from both the Dawn of War and Company of Heroes series – check out our Company of Heroes 3 review to see why that's a good thing – and transfers it to a Warhammer fantasy game for the first time.