In a live stream and subsequent Warhammer Community post on Saturday, Games Workshop revealed more miniatures, character, story, and content details for its latest standalone Age of Sigmar dungeon-crawler, Warhammer Quest: Cursed City. The cooperative tabletop game will include eight playable heroes, and task you with defeating five overlords of Ulfenkarn, as you battle to free the cursed city from the grip of a tyrannical ogre-vampire. The game's release date and price haven't yet been revealed.
Like other Warhammer Quest titles, Cursed City comes in a big box of miniatures, markers, and modular board tiles to construct your dungeon-crawl across the city of Ulfenkarn. With a total of 50 characters and enemy miniatures, 28 dice, a rulebook and quest book to direct your adventure, and a complement of hero and ability cards, the game also includes the Cursed City novel by C L Werner, a tie-in with the upcoming third book in the Broken Realms novel series.
Cursed City's band of playable heroes are an eclectic bunch of misfits and warriors. Among them are a disgraced witch-hunter, an exiled elf, a treasure-hunting dwarf, and a flesh-eating ogre, each with their own unique miniatures (matching the style of the Age of Sigmar tabletop game), and particular weapons and abilities to call upon while slashing their way through corridors of the undead.
Games Workshop also revealed more details about the villains of Cursed City, and the five Overlords of Ulfenkarn that your party must defeat in order to rid the city of chaos and corruption. Among them are the gaunt Gorslave the Gravekeeper, a crazed necromancer, and the tyrannical master of Ulfenkarn himself – Radukar the Wolf, a cunning and beastly vampire beholden to an insatiable lust for blood.
Your journey to defeat these masters of evil will take you across the districts and alleyways of the city, while you also encounter the various other nefarious denizens of the city, from swarms of bloodthirsty bats, to Deadwalker Zombies, to the skeletal city guard.
Specific gameplay details are still sparse, and Games Workshop has been keener to focus on the thematic and story details of the game. However, it says Cursed City is based on the rules of past Warhammer Quest titles, but has been streamlined to make your adventuring more dangerous.
The promotional materials show the same collection of dice used in the previous Warhammer Quest instalment Blackstone Fortress, possibly indicating the use of a similar initiative setting, as well as what appears to be a dial denoting the time of day – perhaps signalling shifting combat abilities of your undead and vampiric foes through the changing states of daylight.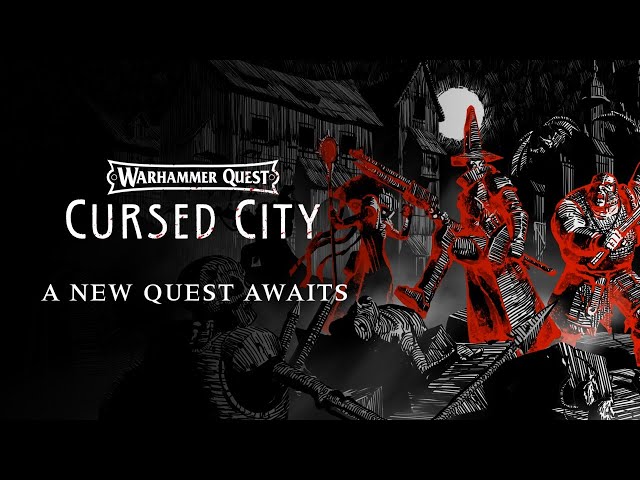 Cursed City isn't the first of Games Workshop's Warhammer dungeon-crawler spin-offs to be set in the Age of Sigmar Fantasy setting, and follows 2016's Silver Tower and 2018's Shadows over Hammerhal. The most recent Warhammer Quest title was 2019's Blackstone Fortress, set in the 40K universe.
All the titles are spiritual successors to the original Warhammer Quest fantasy dungeon-crawler released by the firm in 1995, in Warhammer's Old World and a successor to venerated tabletop RPG board game HeroQuest.
If all this talk of vampire-hunters and Deadwalkers has piqued your interest in the Mortal Realms, read our Age of Sigmar armies guide.