Q-workshop – Wargamer's favourite manufacturer of gorgeous, completely over-the-top, and often eye-wateringly expensive collectors' dice sets – yesterday launched its latest creation on Kickstarter: customisable sets of "hybrid" dual-material dice themed around developer CD Projekt Red's The Witcher games. The campaign's already raised more than twice its original $60k / £43.5k funding target, and, at press time, less than 24 hours later, stands at around $155k / £111k in pledges.
Officially licensed by CDPR, the dice come in either metal or plastic form, with eight different colour-schemed composite material inserts to choose from – or, if you've splashed out on the chunky, runed metal versions, you can choose one of four different finishes of (apparently burn-etched) wooden inserts instead. Fancy stuff.
This kind of luxurious bone-rolling costs, however. The proper metal set will set you back a hefty pledge of between $80 / £58 and $100 / £73 (depending on if you want the 5D6 "dice poker" set, the print-and-play RPG set of 4 D6s and 2 D10s, or the classic seven-piece RPG set) The basic plastic-and-composite dice, by comparison, range from $29 / £21 to $35 / £25 a set. The first wave of stock is set to ship out in December 2021.
Naturally, the Kickstarter campaign comes along with a range of Witcher-flavoured optional extra doodads to go with your luxurious new chance cubes (or alternative chosen polyhedrons). For a mere additional $32 / £23, you can get a stitched leather dice cup to keep them in, silver-embossed with Geralt's handsome face in profile, and the various Witcher Signs.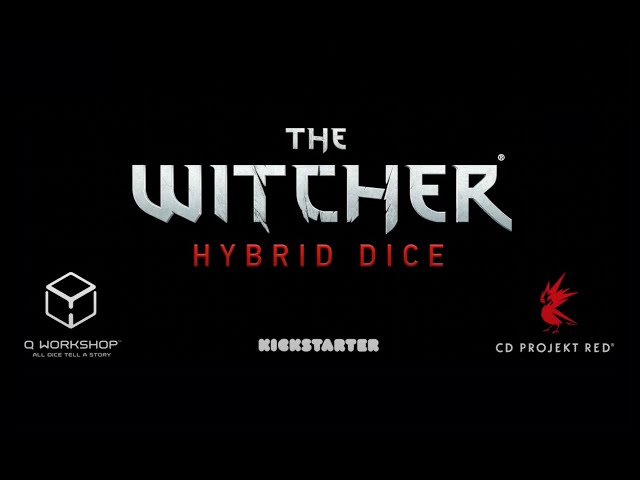 Or, if you're already planning for a post-covid future in which you see yourself carting your prized metal rollers about for dice games away from home, you could drop $24 / £17 on a belt-clippable, suitably weathered-looking leather pouch, to keep them on you at all times.
Library-owners can also opt for the $47 / £25 "Book of Dice" – a book-shaped wooden storage box that'll sit comfortably next to all the other fantasy-ish volumes on their heaving shelves.
But, really, the prices of all these items mean you've really got to want 'em; we see this lot appealing more to hardcore Witcher collectors than your common-or-garden dice-loving Geralt fans. Your mileage may vary, however.
The Witcher series has developed a closer relationship than most videogame franchises to the world of tabletop gaming, largely due to the runaway popularity of its in-universe collectible card game Gwent, which featured heavily in 2015's The Witcher III: Wild Hunt. Gwent was such a hit among players that it got its own standalone videogame release in 2018 – now a major free-to-play CCG in its own right.
The Witcher itself has received several tabletop game outings, most prominently Fantasy Flight's now out-of-production The Witcher Adventure Game – a board game released in 2014 – and the Witcher tabletop RPG, released by Talsorian Games in 2018.
In fact, the Kickstarter campaign for these Witcher dice credits Talsorian Games for sharing some of their creative work for the project.
Q-workshop produces dice sets in a vast range of themes, several of them under official licence for specific games, such as Pathfinder and the Batman miniatures game.
Want more polyhedral goodness? Check our guide to the best D&D dice. Or take it online with our guide to digital roleplaying on Roll20.