Arma 3's latest "Creator DLC", the Vietnam War-focused S.O.G. Prairie Fire, comes out today, sporting a vast 300-square-kilometre map of southeast Asian terrain, hundreds of era-appropriate weapons and vehicles, five single-player missions, and a co-op campaign for up to 14 players (alongside nine custom multiplayer scenarios). Phew. This looks to be a seriously chunky expansion for the now eight-year-old mil-sim shooter.
Developed by third-party studio Savage Game Design, and published by Arma's Bohemia Interactive, the 'crowdsourced' DLC features a long list of new custom assets for the game, all the better to recreate its quite specific historic subject matter: a series of dangerous covert missions carried out across Vietnam, Laos, and Cambodia in 1968 by MACV-SOG, a US special operations team. The developer interviewed several veterans of the squad – which sustained huge casualty rates during the war – in the making of this DLC, and you can listen to some of their recollections in the (pretty darn impressive) launch trailer below.
Besides the MACV-SOG US campaigns, you can also play as the regular US army, the US-allied South Vietnamese army, the People's Army of Vietnam (PAVN) or the Viet Cong guerrillas, each with their own arsenal of iconic contemporary weaponry, from the American M60 light machine gun to the Viet Cong's old Soviet PPSh-41 submachine-guns. And yes, there's a slamming '60s soundtrack (Creedence Clearwater Revival's Fortunate Son as yet unconfirmed).
The DLC is available immediately, at a 15% launch discount, for $19.99 / £16.99.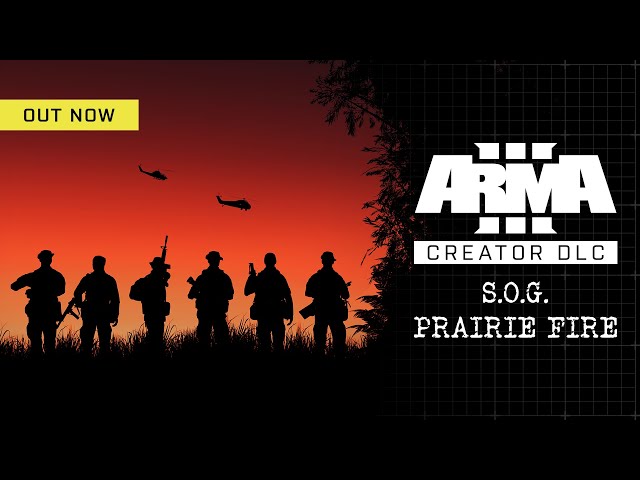 After the first week, it'll cost you an RRP of $22.99 / £19.99. The Arma 3 base game is also getting a 75% discount on Steam, to support the DLC's release, while all the other Arma 3 DLC packs will be available at a still very respectable 66% discount, up until Thursday, May 13.
S.O.G. Prairie Fire is the second of Arma 3's Creator DLC expansions, following up 2019's Global Mobilization – Cold War Germany.
Arma 3's flexible base game had already been used to recreate Vietnam War scenarios in the excellent The Unsung: Vietnam War Mod, created by modder Eggbeast in 2017, and featured among our favourite Vietnam War games.
If you're in a tactical fireteam type of mood, check out our guide to the very best Arma 3 mods, or if you've not yet tried all the expansions, read our guide to the best Arma 3 DLC, to scope out the ones worth playing.