The Kickstarter campaign for Dominate & Delegate suggests it will be the closest thing to a Command & Conquer board game it's possible to make without an official C&C license from Electronic Arts. Complete with a live-action introductory "cutscene", the game promises to contain all the elements of the classic RTS game, from story mode to four-player deathmatch.
The Dominate & Delegate design seems to crib elements from all the best board game genres. Skirmish mode is a classic dudes-on-a-map strategy board game for up to four players. The campaign mode offers branching narratives for two factions, and is purportedly 60 hours long. The indoors 'hero missions' from Command & Conquer: Red Alert are even represented with dungeon crawler segments.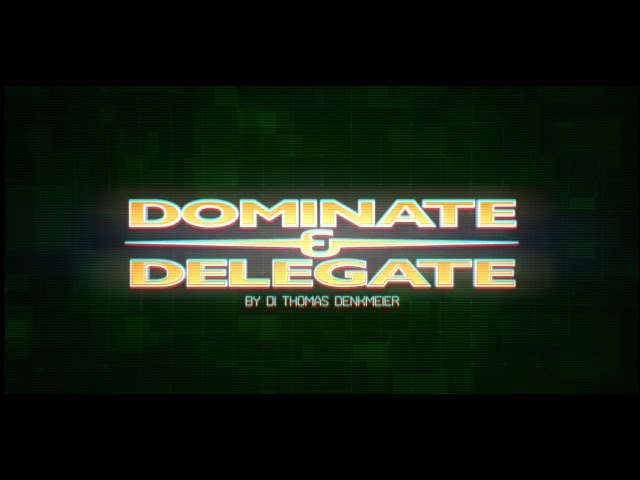 This is the first Kickstarter campaign for developer Thomas Denkmeier. You can back the Dominate & Delegate Kickstarter for $86 (€79), which unlocks the game and all stretch goals; shipping is an additional charge. The projected retail cost for the game will be around $110. The Kickstarter will close on September 14, 2.57pm UTC, with an estimated delivery time in August 2024.
The Wargamer team are suckers for little miniatures on maps, but perhaps the most appealing part of this product are the tiny 'build queues'. They're simple, just small screens with numbered spaces you can place models onto to track their progress through the construction queue. Covertly place a new building or troop into the queue, and slide it towards completion, revealing it to your opponents when it's done. Lovely.
It's been a busy period for board game adaptations of video games. We recently had a great time at our Call of Duty board game preview, and a monster-mashing hoot when we demoed Monster Hunter World: Iceborne – the Board Game. Wargamer's Matt Bassill is currently testing the Sea of Thieves board game adaptation as well.
If you've got a 3D printer and a hankering for Command and Conquer-style minis, we suggest you check out Full Spectrum Dominance by The Lazy Forger. It has a powerful 90s RTS aesthetic, and we're so enamored with its tiny little buildings that we've added them to our guide to Legions Imperialis terrain.