Grand-strategy game Crusader Kings 3 got a double hit of Viking-themed content yesterday, with a new expansion and free update adding new gameplay and cosmetic content to the game's Norse nations. The Northern Lords Flavor Pack expansion adds new events, decisions, and thematic assets for Scandanavian cultures, while the free 1.3 'Corvus' update brings winter, an expanded duelling system, and the ability to write your own in-game poetry. The Northern Lords Flavor Pack is available for $6.99 / £5.19.
As a 'Flavor Pack', the new expansion is a small add-on that adds minor content and thematic features, rather than any new gameplay systems or big mechanical overhauls. New Viking units have been added for Scandanavian nations, including the devout Jomsvikings, fierce Shieldmaidens, and vicious Berserkers. And a host of Norse-themed events, war goals, dynastic legacies, and decisions – like holding a bloody blot sacrifice to appease the Gods – alongside them.
You can stake your claim as a Norse adventurer, and leave your Scandanavian home to settle new kingdoms in foreign lands, or you might be more tempted to try and unify the northern territories into the single High Kingdom.
Next to the gameplay additions, the expansion includes new character assets – such as hairstyles and clothes – and map models for Northern cultures, as well as original art and music.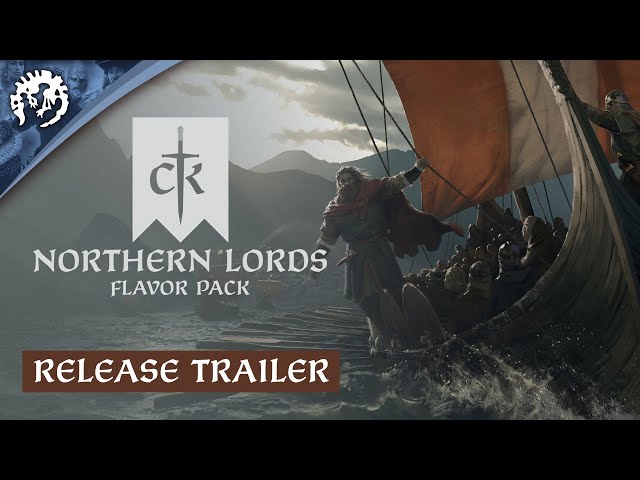 Alongside the expansion comes the free 1.3 'Corvus' update, adding some major gameplay additions to Crusader Kings 3. Winter will now come to your realm, covering the game's grand map in snow, while introducing penalties to supply and influencing the combat effectiveness of units caught in the icy snow. The season comes in three flavours – mild, normal, and harsh winters – each bringing increasingly more severe penalties.
A new duels system has also been introduced. Functioning as a personal combat system for your ruler, you can play a round-based minigame to do-over any noble opponent who's stepped out of line. Select attacks and actions to quickly stick your sabre in their gut before they nick you. You might stop when first blood is drawn, or keep up the fight until one of you falls down dead.
Characters can also now acquire the 'Poet' trait, allowing you to write and send thematic poems to other characters.
Partnering with the Northern Lords expansion, the update introduces a heap of Norse-related content, including various territory changes to the northern areas of Scotland, Iceland, and Sápmi of northern Scandanavia. New Special Buildings have been added for Scandanavian and Eastern European realms, alongside various additional Coat of Arms, new house mottos that reference the Norsepeople's gods, and extra religion icons.
The update also brings a slew of gameplay tweaks and quality of life improvements: opened notifications can be dismissed more easily, event pools have been restructured, and alterations made to converting your character and realm to a new faith.
Read the full changelog of updates here.
Interested in jumping aboard Crusader Kings 3's rollicking roleplaying strategy adventure? Read our beginner's guide to the game, or check out our guide to the best Crusader Kings 3 mods, to expand and spruce up your medieval machinations.