Strategic wargame Pavlov's House is getting a digital adaptation towards the end of February, according to publisher Bookmark Games. The new port, releasing on Steam, Mac and iPad, is the first digital foray for this 2018 WWII board game, in which players defend a Soviet strong-point with just a few men, while simultaneously marshalling broader military support outside.
The upcoming digital version translates the original board to the screen, but promises some additions. The enemy German AI can be set to four difficulty levels and a new, hands-on tutorial has been introduced, to ease in players who haven't tried the tabletop version. There's also reams of background information and timelines exploring the Battle of Stalingrad, for anyone wanting to buff up on their military history.
While the original board game could be played solo, cooperatively (with one player controlling the defenders of Pavlov's House and the other commanding the supporting Soviet Army), or competitively (with another player hopping in to command the German attackers), the digital version is listed only as a single-player game on its Steam page. This may not prove a huge blow, however, as the original board game was largely praised for its solitaire experience.
Pavlov's House is a game of survival that casts you as a group of Soviet troopers defending a fortified apartment building from continuous German assaults. You fend off attacks until reinforcements arrive, while also – on the zoomed-out side of the board – commanding leaders of the Soviet 62nd Army to support the defenders inside the building. German attacks are simulated through a randomised deck of cards, and you must respond to these swiftly in order to preserve the life and strength of the troops. Survive until the deck is depleted and you'll launch a successful counter-offensive to secure victory.
Pavlov's House isn't pure fiction, but rather recreates the Soviet Army's defence of a strategically-beneficial four-storey apartment building in the centre of Stalingrad during the infamous WW2 battle. After capturing the complex from Nazi forces, Soviet soldiers held firm against regular German attacks for nearly two months, until they were relieved by more Red Army forces mounting a counter-offensive.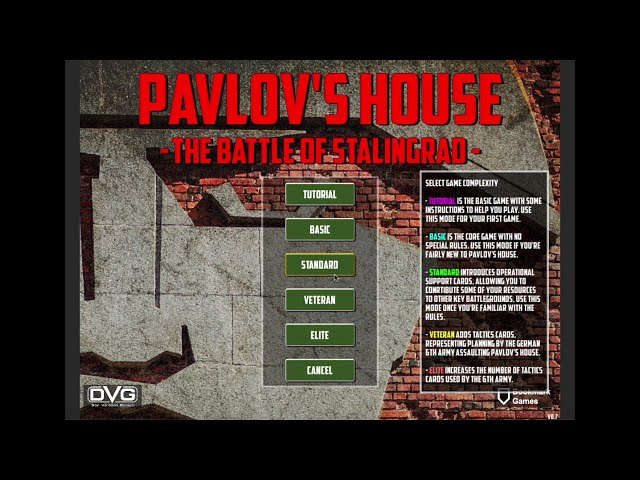 The titular building took its moniker from Seargent Yakov Pavlov, who commanded the storming and defence of this crucial building from the German forces. It has nothing to do with the famed Russian biologist who taught his dog to salivate on command.
Keen for more military marshalling? Check our guide to the best war board games.