Root: The Marauder, the fourth expansion for the world's most popular woodland-themed board wargame, dropped on Kickstarter yesterday, and has raised over $1m in 24 hours – over ten times its initial funding target. The expansion adds two new factions – of rats and badgers – four new Landmarks, and up to 13 new in-game Hirelings (depending on your pledge level), each with their own rules, wooden game pieces, and accoutrements. Creator studio Leder Games says backers can expect their copies of The Marauder in January 2022, while the expansion will release to retailers in Spring 2022. The basic pledge version of The Marauder will cost you $50 / £36.
The Marauder's two new factions – the Lord of the Hundreds and his rapacious rat invaders, and the relic-coveting, quasi-knightly badger order of the Keepers in Iron – each have their own new mechanics and game pieces, according to Leder Games. These can play off against each other, or mix and match in two-player or multiplayer games with previous factions from the base game, and Riverfolk and Underworld expansions.
The expansion's parade of new Hirelings, who can be paid to supplement your furry/feathered forces – including the cats of the Forest Patrol, the boat-borne Riverfolk Flotilla, and a grumpy-looking black bear called The Outcast – as well as several new Landmarks, adding more strategic base-building options to areas of the map.
The second-tier pledge version, at $80 / £57, gets you the other six new Hirelings and a fancy storage box for the expansion's pieces.
The top banana, at $110 / £78, also nets you the upcoming, new and improved second version of the game's Clockwork expansion, which adds systems to automate the game's base factions for coop play.
The Marauder will be the fourth boxed addition to Root since the game first released in 2018. Its first foray, The Riverfolk, followed hot on the main game's heels in 2018, adding the itinerant boating Riverfolk and Lizard Cult factions.
In 2019, The Underworld added mole and crow factions, a new map, game cards and alternative 'meeple' pieces for the Vagabond. The gameplay-automating Clockwork expansion came along in 2020, with an updated version now expected around the same time as The Marauder.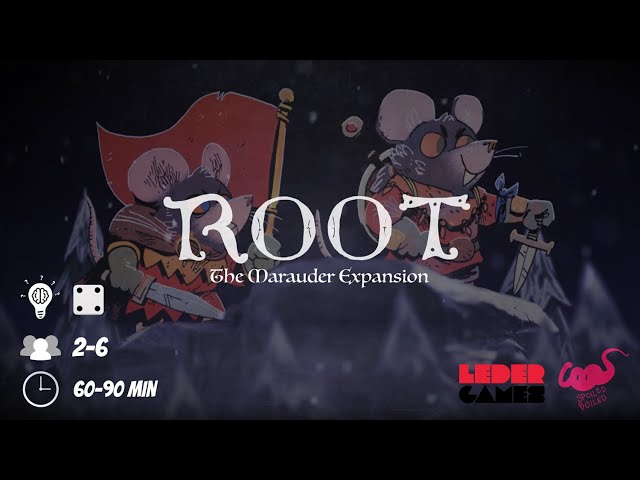 Root also has a digital version playable on PC (and mobile) which, while it can't capture the full cuteness, has a valiant and very serviceable go – read our Root: Digital edition review to find out more.
Or, if you don't want to get too square-eyed and would rather stick to the tabletop, we featured Root in our recent guide to the best strategy board games, alongside some other absolute bangers you might like.