The countdown to the next historical Total War game has started, as developer Creative Assembly announces the official Total War: Pharaoh release date – along with details of limited editions, an early access weekend, and a chunky, eight-minute-long 'Campaign Map flyover' trailer full of insights into Total War: Pharaoh's game world and narrative.
The Total War: Pharaoh release date is Wednesday, October 11, 2023 – for the main digital edition at least. There's a physical limited edition, titled the 'Adorned Edition', which will come with extra cosmetic items and a physical map poster – but it's only coming out in Europe.
For those who pre-order the game, the dates of the Total War: Pharaoh early access weekend have also been revealed: it'll run from Friday, September 29 to Monday, October 2. We don't yet have any specific information on preinstall or unlock timings for that, or whether saves will carry over to the release version.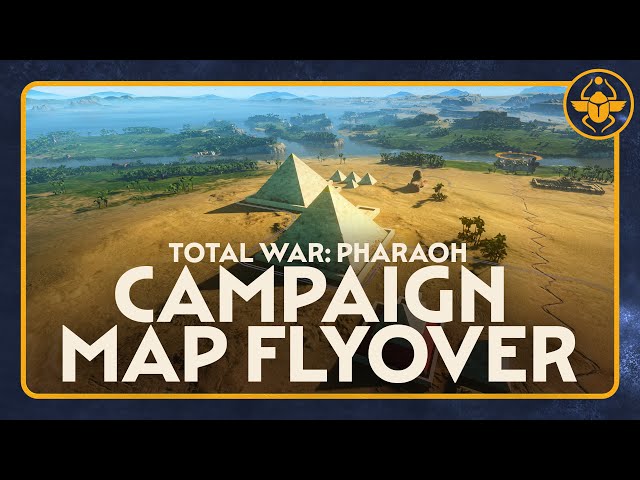 The news comes in a press announcement from publisher SEGA released on Tuesday – alongside a lengthy, dramatic new trailer (watch it above) showing the wide reaches of the game's ancient Egyptian world map.
It's narrated by the outgoing Pharaoh Merneptah – whose death will kick off the power struggle on which the campaign centers – and nods towards the various characters and players on the political map.
Creative Assembly has also released the preliminary Total War: Pharaoh system requirements – click that link to check if your rig can run it via our handy sister site, PCGameBenchmark.
Total War: Pharaoh was announced back in May, and will be the first main-line historical game released since 2019's Total War: Three Kingdoms – which was set in first century China.
You'll be able to play as one of four Egyptian leaders gunning for the title of Pharaoh of all Egypt – Ramesses, Seti, Tausret, and Amenmesse – or command the neighbouring Canaanites and Hittites, each of whom get two choices of faction leader: Bay and Irsu for Canaan, or Hittite kings Hurunta and Suppiluliuma.
The 8-minute trailer above sets the scene for a grand confrontation over the kingdom's succession, putting some meat on the bones of the different playable leaders – as well as highlighting the importance of various Egyptian gods Ra, Thoth, Horus, and Ma'at, whom you'll be able to worship via shrines and temples for strategic bonuses.
We'll keep an eye on further news on the Total War: Pharaoh release and early access weekend as they come out. In the meantime, to whet your appetite for some strategising, check out our guides to the best grand strategy games and best RTS games on PC – or take it offline with our favorite strategy board games and historical board games.