After making all the rules for Warhammer 40k free at the start of 10th edition, Games Workshop also gave fans access to a new and improved Warhammer 40k app with a built-in army builder. It's a solid tool that makes army-building quick and simple most of the time – but as of August 30, you'll need a Warhammer Plus subscription to keep access to the list-builder.
Rosterizer positions itself as an open-ended alternative. Currently in Beta, it's a game system agnostic list-building web app. Users can create Rosters for armies, and – with a bit of coding skill – the Manifest files that contain the data that make up army lists. With the right Manifest, Rosterizer can support list-building for any Warhammer 40k faction, Age of Sigmar army, or the niche indie wargame of your choosing – and the community has already created a lot of them.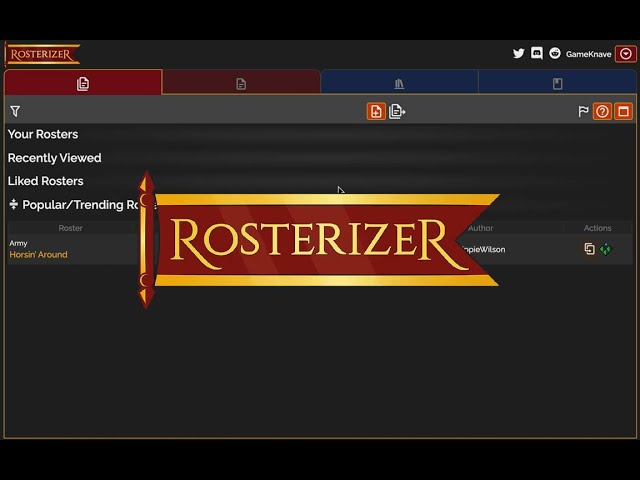 This style of app has a track record of success. For years, the list-building tool of choice for wargamers was Battlescribe, a mobile and desktop app that uses basically the same system. Battlescribe is not being actively developed at the moment, so while fans continue to update manifests for new games, it's only a matter of time before an update to iOS or Android bricks the software.
Rosterizer has positioned itself to fill the gap; it even has features that Battlescribe lacks, like the ability to edit the stats of units inside a Roster, handy for campaign games where they might attract experience or injuries.
Currently, Rosterizer is on Kickstarter raising funds to launch version 1.0. The campaign goals are concrete and grounded: the team believe that $40,000 will give them the funds to bring the game to a launch version, with needed features like an offline mode, payment processing, and a security consultant to ensure the code is free of vulnerabilities.
You can trial the Beta version of the app for free at the moment. So far it seems stable, though I've found it can be slow. Community members have already created Manifests for Warhammer 40k factions. The first time I added these to my files the system didn't recognise them, but I was able to build an army list quickly enough after reloading. Beta hiccoughs, or signs of future problems? Hard to say.
Where the Warhammer 40k app is glossy and easy to use, Rosterizer is open to manipulation – the difference between an Apple and a Linux computer. There are options to get right under the hood of the Manifests and start tweaking army lists and validation rules. It promises power, at the expense of polish.
Could this replace the Warhammer 40k app? Depends what you're looking for. If you want to plug in and play, the Warhammer 40k app should work for you. If you play a lot of games or niche game modes, want data updates on the community's schedule rather than Games Workshop's, and don't mind an interface that looks like a library catalogue, Rosterizer could be a successor to Battlescribe.
I'm a sucker for list-building – check out the incredibly bad lists I built to celebrate the launch of Warhammer 40k 10th edition.