Games Workshop has finally announced a release date and monthly subscription price for its incoming streaming service-slash-VIP scheme, Warhammer+, as well as showing off a slew of its other, previously unannounced features – including three in-house shows for the platform, two exclusive miniatures for subscribers, access to the 40K and Age of Sigmar apps, and an expanding digital vault of Warhammer publications.
In a Warhammer Online livestream on Wednesday, GW presenters Adam Troke and Eddie Eccles outlined these new features, and confirmed the service would launch on August 25, and cost $5.99 / £4.99 per month (or $59.99 / £49.99 for a year). The stream also revealed that, along with the new content, the subscription price will include access to both the Warhammer 40K and Age of Sigmar 'Azyr' rules reference apps (both of which currently charge their own monthly fee).
At launch, Warhammer+ will feature just two of the eleven already-announced animated shows – Angels of Death and Hammer & Bolter. We'll get a "group" of ten-to-fifteen-minute episodes up front for each, then weekly episodes thereafter. The other nine we know are due to air on Warhammer+ will be added at an unknown later date.
However, from the August 25 launch date, the streaming platform portion of Warhammer+ will also feature at least three shows to be produced in-house by Games Workshop.
These are Citadel Colour Masterclass (an expert painting tutorial show presented by new recruit Louise Sugden), Battle Report (GW's first ever branded version of the ubiquitous YouTube game report video format ) and Loremasters (a narrative-focused show with Warhammer Community mainstay Wade Pryce at the helm).
And Warhammer+ subscribers will get their choice of two exclusive miniatures sent to them at the end of each full year of subscription. The two initial models on offer were showed off on stream, an Ironjawz Orruk character for Age of Sigmar, and a sizeable special-edition Vindicare Assassin model for Warhammer 40K – but presenters confirmed we would see a fresh crop of exclusive minis next year.
Loyal users of the current Warhammer 40k app through its rocky launch will be getting special treatment to say thanks, Troke said on stream; as long as they sign up to Warhammer+ in the first month, they'll get their exclusive miniature up to 3months before other subscribers.
Less sexy than the other Warhammer+ features revealed – though not much less impressive – is access to the new Warhammer Digital Vault, an expanding library of old Warhammer content, including old books and the 2020 archive of White Dwarf magazine, with new titles to be added every week.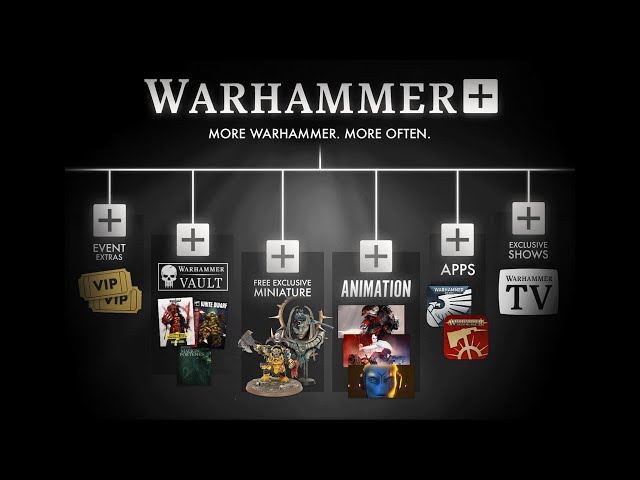 And we can indeed expect some forms of discounts on purchases on the Games Workshop webstore, Troke affirmed, saying "extra value gift vouchers for the Games Workshop website" were on the cards.
Troke also explained on stream that the launch was originally scheduled for July, but has been pushed back to August "to prioritise the health and safety of our staff" with covid-related risks persisting worldwide.
The presenters restated that GW is working with an "internationally renowned provider" of digital streaming content to develop the tech platform on which Warhammer+ will operate, and content would be viewable on your TV, computer and "other devices", but we've no further technological details as yet.