Acclaimed dungeon-crawler board game Gloomhaven is to receive a bespoke set of miniatures. Announced by publisher Cephalofair Games in a teaser trailer on the weekend, the Miniatures of Gloomhaven expansion set includes 3D minis of the game's monsters and will launch for crowdfunding next year.
Although decidedly short, the trailer shows digital renders of six new miniatures, including what looks to be minis for the City Guard, Vermling Scout, Bandit Guard, Inox Shaman, and other enemy units that appear in the game. The miniatures appear to be made of either plastic or resin, but there's no official word on what material they'll be made from or their scale.
As the final few frames of the trailer indicate, the minis will also be compatible with the other games in the Gloomhaven line, including standalone spin-off Jaws of the Lion, upcoming sequel Frosthaven, and the Gloomhaven expansion pack Forgotten circles. There's no suggestion yet as to which characters, enemies, and monsters from the games will be recreated as miniatures – whether every single one of them, or only a select few – nor any details surrounding how they'll be bundled together.
Although the original Gloomhaven includes plastic miniatures for the playable hero characters, the monsters and NPCs of the game are represented using cardstock tokens. Creating and 3D-printing homemade miniatures to replace the tokens has been something of a trend in the Gloomhaven community since the game's release, and fans have been calling on Cephalofair to release an official line of minis for years.
Check out the Miniatures of Gloomhaven trailer below: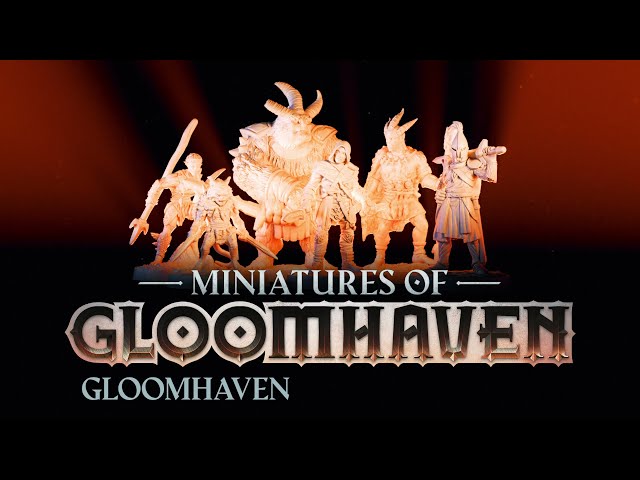 Released in 2017, Gloomhaven has become a heavyweight title in the tabletop community. Launching to instant acclaim, the game combines the tight action economy of a dungeon-crawler with the narrative beats and character progression of a tabletop RPG. You and up to three others will assume the role of adventuring mercenaries taking on daring contracts for the populace of Gloomhaven, which just so happen to involve slaying lots of monsters and beating up bandits in dank dungeon corridors.
We named Gloomhaven one of the best board games of all time for its precise card-driven combat system that rewards shrewd combos and activations, as well as its colourful portrayal of the persistent fantasy world in which you'll adventure.
For more tabletop treats, check out our pick of the best couples' board games or read our guide to the best board games for Christmas that'll see your holiday right.