The Total War: Warhammer 3 release date has finally been confirmed, alongside a new army reveal to boot. After being delayed earlier this year, the much-anticipated strategy game is now planned for release on 17 February 2022, and will introduce the hotly anticipated – and somewhat expected – Ogre Kingdoms as a pre-order bonus.
With the gluttonous Greasus Goldtooth and Skrag the Slaughter as its legendary lords – which some Warhammer Fantasy Battle fans might recognise as the dominant tyrants of the Ogre Kingdoms – the army looks like a natural fit for Warhammer 3. The race hasn't yet appeared as a playable faction in the series, and was only later integrated into Total War: Warhammer 2 through a mechanic that let you recruit Ogre mercenaries into your armies.
Creatively Assembly described the Ogre Kingdoms as excelling in long-range firepower and monstrous cavalry. They're designed to wage war as a nomadic people and will take on contracts to earn new, shiny titles for themselves.
You can pre-order Warhammer 3, or buy a copy during the week of its release, to unlock the faction's race pack as a free bonus. After that point, it will be available as standard DLC.
Check out the Ogre Kingdoms trailer below: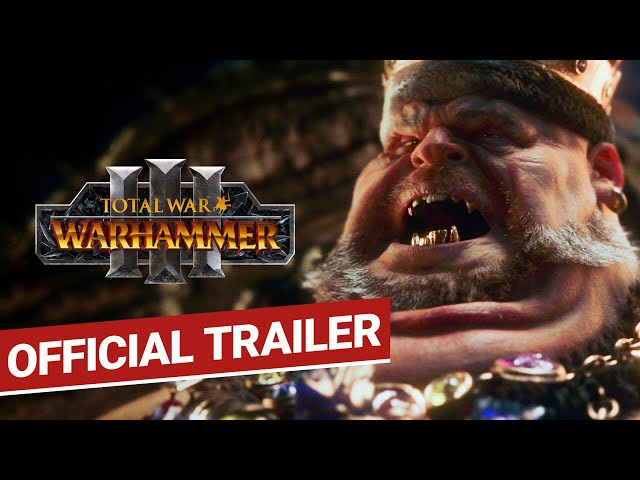 Alongside the new army, Creative Assembly revealed that Total War: Warhammer 3 will also be available on Microsoft's Game Pass for PC, and two special editions for the game will be produced: the Day One edition bundles the base game with a poster campaign map and Chaos Icon stickers, while the Limited edition comes in an embossed metal case.
We've already seen a lot of Total War: Warhammer 3 in the run-up to its release next year. Back in September, Creative Assembly confirmed Grand Cathay would be a major force in the game, and announced it had co-operated with Games Workshop to design tabletop rules for every unit in the army.
In Warhammer Fantasy lore, the Ogre Kingdoms reside in the Mountains of Mourn, which just so happens to be adjacent to Cathay, Kislev, and the Chaos Wastes – all the other main locations of Warhammer 3.
For more grimdark excitement, check out our pick of the best Warhammer Fantasy videogames, or read our guide to everything we know about Warhammer: The Old World, Games Workshop's revived version of Warhammer Fantasy Battle.