Warhammer 40k and Horus Heresy fans alike have been waiting for a Daemon Primarch Fulgrim model for years, and on Wednesday Games Workshop delivered, revealing a brand new Forge World resin kit at the Nova Open. This model represents the Primarch of the Emperor's Children Legion immediately after his ascension to become a Daemon Prince of Chaos, during the Horus Heresy civil war.
As a Forge World resin model rather than a plastic Warhammer 40k kit, this is a bittersweet reveal for some 40k Chaos players. Many had hoped that the Emperor's Children would be getting a distinctive Warhammer 40k faction and model range, like the World Eaters, Thousand Sons, and Death Guard. The new 30k model suggests that a 40k faction isn't on the immediate horizon.
However, the new Fulgrim kit is a great indication of the scope of Games Workshop's ambitions for the Horus Heresy setting and game line, as well as the long term future of Forge World.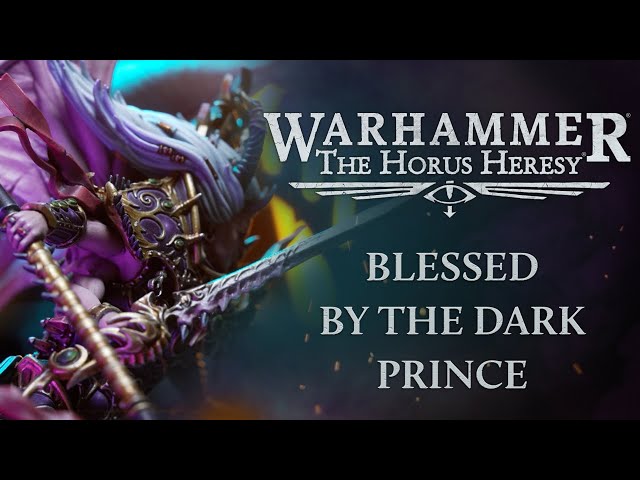 Throughout the Heresy saga all of the Space Marine Primarchs undergo transformations, whether figurative or literal, but until now only Horus has received more than one tabletop model. Given that Horus is the title bad guy, it was possible that he was getting special treatment: after all, Daemon Primarch Angron already has a 40k model.
Making a Heresy-specific Daemon Fulgrim all-but confirms that Heresy-era rules are coming for all the Daemon Primarchs, and that there'll be Heresy-era models for them all. That will give both 40k and Heresy players a choice of aesthetics, and model materials, when they want to add the biggest bad guy to their force.
Fulgrim also gives us hope for second versions of other Primarchs. We're still conspicuously missing a model for White Scars primarch Jaghatai Khan on Jetbike, and as an Iron Warriors player, I'd particularly like a late-Heresy, ultra-paranoid Perturabo wearing the upgraded Logos suit he used to batter Angron into submission.
Forge World has retired large tranches of resin kits in recent years, while increasing production of plastic models. As a Primarch model, Fulgrim is a very "solid" entry into Games Workshop's product catalogue, a miniature that will remain on the shelf for a long time. This new figure signals much more strongly than upgrade kits or Necromunda characters that Forge World will retain resin production facilities for years yet.
Indulging in speculation, Fulgrim may also signal Games Workshop's intention to extend the Age of Darkness setting beyond the end of the Horus Heresy and into the years of the Scouring, the Imperium's long war of retribution that drove the traitor legions into the Eye of Terror.
Alone of the Daemon Primarchs, Fulgrim wasn't banished during the Siege of Terra, but left in a huff. He was still causing trouble in the Imperium during the Scouring (notably, fatally wounding Roboute Guilliman).
The Horus Heresy books series has been inordinately profitable for Games Workshop, but it will soon end with the final two volumes of Dan Abnett's final novel in the Siege of Terra saga. The scouring contains many monumental events from Imperial history, like the Dark Angels destroying Caliban, or the battle of the Iron Cage between the Iron Warriors and Imperial Fists.
Fulgrim doesn't prove that Games Workshop plans to make books or games about the Scouring, but he would definitely fit into such a plan.
If you love painting miniatures, the new Fulgrim kit looks like an impure delight. If you've never worked with resin before, be advised that you'll need to first wash the model, then use superglue to stick it together. It's slightly more brittle than cyanoacrylate, but becomes bendable when heated – sometimes necessary to make parts fit. Best practice when cutting or sawing resin is to wear a respirator mask, as resin particles cause lung damage and are a cancer risk.
Personally, I'm waiting for Daemon Fulgrim to appear in Warhammer Horus Heresy: Legions Imperialis. This would bring him full circle, as the first ever Fulgrim model made its appearance in the '90s, in Epic Space Marine.
Fulgrim was just one of a score of awesome new kits revealed at the Nova Open: check out the latest Warhammer 40k Space Marine reveals if you like your superhumans slightly smaller and less scaly.