28/04/21 UPDATE: Prices of the new sets have now been confirmed by Warlord Games.
World War Two miniatures wargame Bolt Action is heading to the Pacific, in a new starter set and four troop packs. Announced by publisher Warlord games yesterday, the Island Invasion kit includes 50 plastic miniatures for the Imperial Japanese Army and US Marines (USMC), along with a couple of set-exclusive terrain pieces. The box will be available to pre-order from April 28 for $104 / £75, along with two additional troop packs for each army.
The new starter set includes 24 infantrymen for each force, spanning riflemen and light machine guns, along with a Chi-Ha tank for the Japanese force, and an M3A1 Half-track for use with the US marines. One pillbox and two spider hole (a type of single-person foxhole) terrain pieces are also inside. And since this is a starter set, they come alongside a Bolt Action second edition rulebook, an assortment of dice and templates for use in-game.
Inspired by the US Marines' amphibious 'island-hopping' campaign in the Second World War, Warlord Games says the new starter kit focuses on the densely packed, jungle islands of the Pacific Theatre, and includes a scenario book to guide you through how to play a match of the miniatures wargame.
Alongside the starter set, Warlord Games also revealed two new troop boxes will be released for the Japanese Army and USMC. The publisher says the new packs are intended to expand upon and support the core forces of the Island Invasion set.
For the USMC, the Raiders Squad looks to contain riflemen and submachine guns, while the Support Group adds a mortar crew and heavy machine gun. On the Japanese side, a Teishin Shudan Paratrooper Squad includes, well, paratroopers, sporting various light weapons, while the Japanese Army Support Group includes heavier weaponry.
Prices have now been confirmed by Warlord Games. The Island Invasion starter set can be pre-ordered for $104 / £75, or bought alongside the four new troop packs for $189 / £136.
You can also opt to throw in the Empires in Flames theatre book and Marianas & Palau Islands campaign supplement for a total of $239 / £172.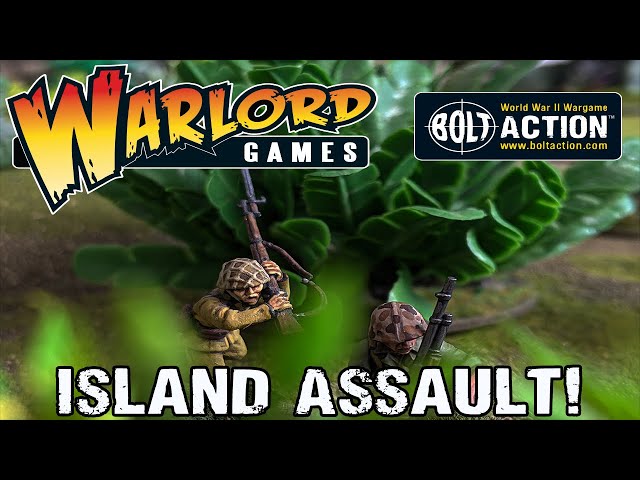 The Island Assault starter set has been available to pre-order directly from the official Warlord webstore since April 28.
It hasn't been a quiet year for Bolt Action, with the WW2 wargame getting a chunky British and Canadian starter army kit back in February.
If you're looking to brush up on your painting skill in time for the new relaese, read our miniatures painting guide, or take a look at our picks of the best war board games for another tabletop flavour.