Fans of miniature-filled board games: do you also dig Paizo's D&D-alike tabletop RPG Pathfinder? If so, this could be your ideal board game Kickstarter – Pathfinder: Arena is a two-to-four-player competitive miniatures brawler, set in a labyrinthine dungeon in the Pathfinder universe – and it starts its Kickstarter crowdfunding campaign at 3pm GMT today – Tuesday, November 22.
Pathfinder: Arena is the work of Naples-based studio Giochi Uniti (Games United), a major manufacturer and distributor of Italian-language versions of Paizo's Pathfinder and Starfinder tabletop RPG sourcebooks, as well as other top-tier tabletop games like Catan, Arkham Horror, and Android: Netrunner. It was widely announced in mid-October, after an initial showing at Italy's Modena Play festival in early September – but today's Kickstarter launch will be our first chance to see the game in full.
The core set includes 18 minis (four heroes and 14 monsters), 48 dungeon arena tiles, and over 100 cards – and Giochi Uniti has revealed three expansions that'll feature in the various tiers of the Kickstarter campaign, with contents voted on by its fans. Expansion 1 adds two hero minis: Fumbus the Alchemist, and Seoni the Sorceress; Expansion 2 adds the Goblin Pyro, Gargoyle, Nightmare, and Mummy Pharoah monster minis; and the third, Age of Ashes, tacks on another new hero, and a further four monsters.
The studio says there's also an exclusive extra Black Dragon mini for those that back the game on day one of the Kickstarter. We don't yet know the structures or prices of the different pledge tiers or stretch goals – nor whether there's any guidance as to a possible future retail release.
We do, however, have some solid details of Pathfinder: Arena's gameplay – Giochi Uniti's official site makes clear that:
Each hero is based on a given Pathfinder class (the core set has Merisiel the Thief, Valeros the Warrior, Kyra the Cleric, and Ezren the Wizard.
Heroes also have stats for Pathfinder's core attributes – Strength, Dexterity, Constitution, Intelligence, Wisdom, and Charisma – you level these up by exploring the arena and picking up corresponding tokens.
Heroes can also be 'built' through the game by "collecting ability tokens and items in the arena and [choosing] abilities [and] spells between rounds".
Combat doesn't use dice or cards – you just calculate the damage from your combo of Strength, abilities, spells, and items, and see if it's enough to beat the enemy.
Players can spend actions to slide the arena tiles, changing the shape of the play space to their advantage.
Monsters never move by themselves – but players can move them by sliding their home tiles around, ideally to threaten opponents.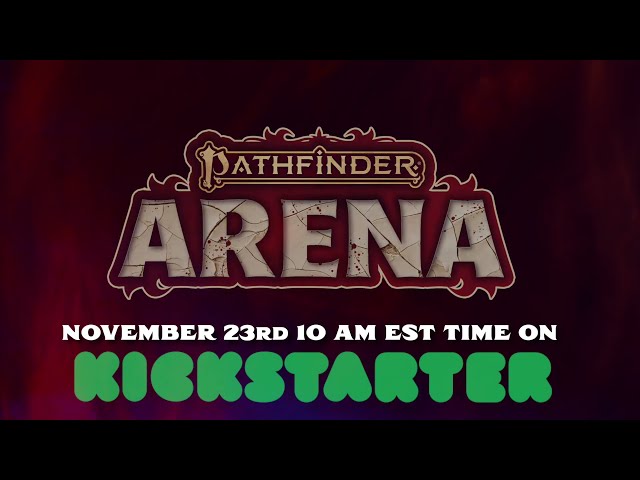 We'll update this story later on to reflect the details of the live Kickstarter campaign, tiers, stretch goals, pricing, retail release plans, and anything else important we learn about Pathfinder: Arena.
In the meantime, there's also the news that Pathfinder now has its own nascent version of D&DBeyond. Or, if you're on more of a board games kick – good timing: here are the best Black Friday board game deals this week.