Games Workshop is advertising for a new Warhammer 40k Games Director, a "Senior Creative Lead" who will "shape the future" of Warhammer 40k. This will be a management role, providing "visionary leadership, fostering mentorship and championing continuous improvement" for the game development team, while creating "the strategic roadmap" for the game.
It's a high-level position, so rather than tinkering with the rules for a particular Warhammer 40k faction, the appointee will have a "pivotal role in senior-level decision-making processes, providing expert guidance and strategic input to shape the direction of the organisation". They will "shape cutting edge rules", but they'll do it indirectly, by "refining systems and processes".
You have until midnight UK time on September 24 to apply for the role via the Games Workshop jobs website. The job listing does not provide salary details.
The listing adds that Warhammer 40k Games Director will be "responsible for leading on product format development" together with the "Lead Product Manager" for Warhammer 40k. Decoding the jargon, it looks like they will be devising new lines of 40k products – but there are lots of things you could call "40k products", and without knowing more of GW's internal structure, it's hard to say how many of them will fall under this role.
We assume that product lines offering models and variant Warhammer 40k rules, such as Warhammer 40k Combat Patrol and the Boarding Patrol box sets released before the launch of 40k 10th edition, will be within this role's ambit. It's likely that the appointee will shape structural decisions about Warhammer 40k, like deciding the future of Warhammer 40k Codex rulebooks now that the 40k app is up and running.
It's harder to guess if the Games Director might also have a say in spin-off games like Kill Team, tie-in board games like Combat Arena, or partner projects like Space Marine Heroes or Imperium Magazine.
The current Warhammer 40k Studio Manager, Stuart Black, shared the job listing on his LinkedIn on August 25, saying "come and join the expanding Warhammer 40k Games Design team". This suggests that the role is entirely new, rather than a vacancy or part of a restructure. Vanguard Tactics has a neat video interview with Stuart Black, below: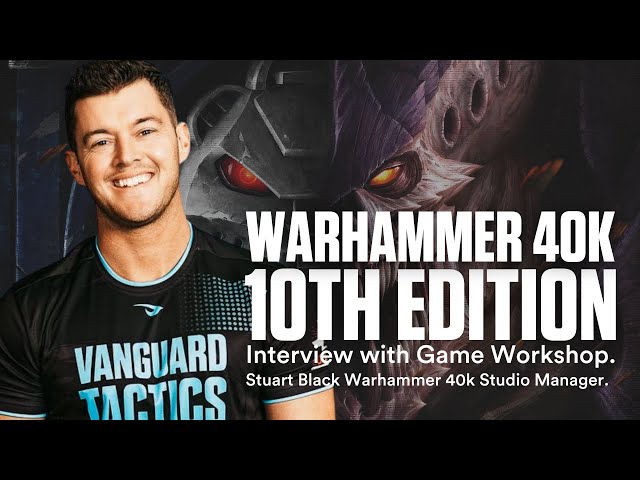 We've reported on a lot of exciting new roles in Games Workshop HQ recently. The licensing partnership team advertised for a new manager to cover video game projects and a new brand assurance officer, while the design studio is on the hunt for a new Warhammer 40k Kill Team matched play designer.