Demiplane is launching a set of online tools for playing games with D&D's 5e ruleset – but only third party RPG publishers are invited to the party. Announced on February 14, 5e NEXUS is billed as a platform with tools for 5e, "but for more than one Tarrasque sized publisher". It aims to cater to the third party scene, "giving fans the high-quality digital tools they crave, without having to leave their favourite toys in the toybox".
Seeming to set itself up as an unofficial competitor to D&D Beyond, 5e NEXUS will include similar elements like 5e character builders and rules information. And during the 5e NEXUS announcement stream, Demiplane chief development officer Adam Bradford said that "the intent is not to partner with Wizards of the Coast." Notably, Bradford is the original founder of D&D Beyond, but left the company before its acquisition by Wizards of the Coast in 2022.
Apparently, 5e NEXUS was planned for a long while, and the timing of its development was impacted by the recent OGL controversy that has rocked the DnD fandom. Bradford said on yesterday's stream that "there has always been the intent on Demiplanes' side to have 5e support when the timing was right", but that the company was being "very cautious" while the "shenanigans" went on.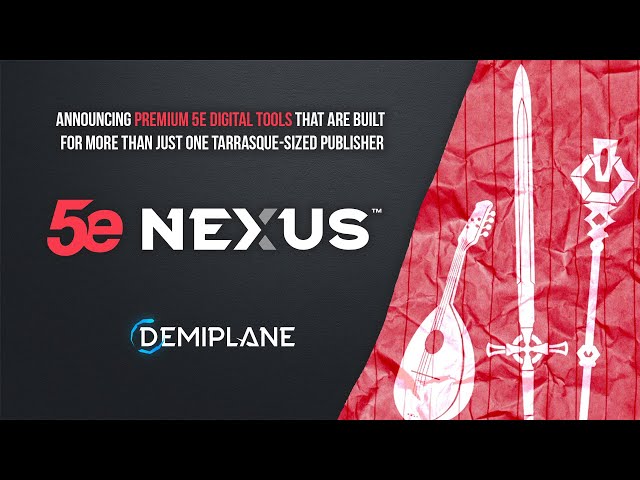 It appears Wizards of the Coast's backtracking on the OGL issue, and decision to place the core 5e rules in the Creative Commons gave enough surety for Demiplane to go ahead and announce 5e NEXUS
"The key thing with what has changed for us is obviously the Creative Commons move," Bradford said, but continued, "we have also signed several partners that produce 5e-based content, and for months – for a year in some cases – we have been wanting to support those partners and that great content".
One of these partners is 5e third party publisher Kobold Press, whose new Project Black Flag content is going to be incorporated into 5e NEXUS, but Bradford hints that plenty more will be announced in the coming weeks.
While official DnD books and DnD campaigns won't be found on 5e NEXUS, Bradford wants the platform to be a "safe harbour" for third party 5e content both existing and new. "Every play group I come across uses third party content in their games," he explained. "The challenge still remains to make all that content accessible in a unified and seamless way".
5e NEXUS is currently in a 'prelaunch' state, with only matchmaking and group portals – for finding and joining online games – available. Its expected to enter early access this spring, and will then include 5e rules information and content from third party books, with "integrated tooltips, drill-down sidebars, and cross-references" to reduce reading and prep time.
Demiplane aims to have character tools, including 5e character sheets and character builders, ready by the end of the year.