Magic: The Gathering's next Secret Lair limited edition mini-set will be a crossover with Netflix's smash-hit paranormal drama series Stranger Things. Announced back in June during a three-hour livestream for Netflix's Geeked Week event, the set will be released as part of the Magic's Secret Lair 'October Superdrop', and go live for pre-order on October 18.
Recreating several of the television show's recognisable characters as MTG cards, the set will contain eight cards in total. They've been designed with mechanically unique sets of abilities and, from what we've seen so far, look pretty powerful.
Back in October, Good Morning Magic presenter Gavin Verhey also revealed that the Stranger Things cards are "not intended for competitive constructed play", but rather targeted at collectors, and Commander players. Verhey also clarified that the Stranger Things Secret Lair drop, as a 'Universes Beyond' crossover, would conform to Wizards' new structure for such releases, and has been designed to appeal to both limited edition card collectors, and universe-loyal Magic players.
Stranger Things Secret Lair card spoilers
The full card list for Stranger Things Secret Lair has now been revealed. Spanning the main characters and antagonist of the television show, the eight cards are as thematic as you'd expect, but not at all weak picks.
Most noteworthy are Chief Jim Hopper and Eleven, the Mage. Classed as Legendary Creatures, they share the Friends Forever ability, letting you use them both as Commanders in a single deck. Functionally, it looks identical to the Partner keyword ability, but references a quote from the television show.
Stranger Things Secret Lair release date
The Stranger Things Secret Lair drop will be up for pre-order on the Secret Lair webstore from October 18 to November 15.
You'll be able to grab the base set at $39.99 / £39.99, or splash out for the foil collection for $49.99 / £49.99.
Stranger things set details
Elsewhere in the Good Morning Magic video from back in June, we learnt that there will be both Stranger Things versions of the cards, and "in-Magic" versions which work the same mechanically, but have altered, MTG-appropriate names and artwork.
It's the same basic treatment that was applied to the Godzilla-themed cards featured in 2020's Ikoria set, as well as the approach that will be taken for the upcoming Warhammer 40K crossover cards.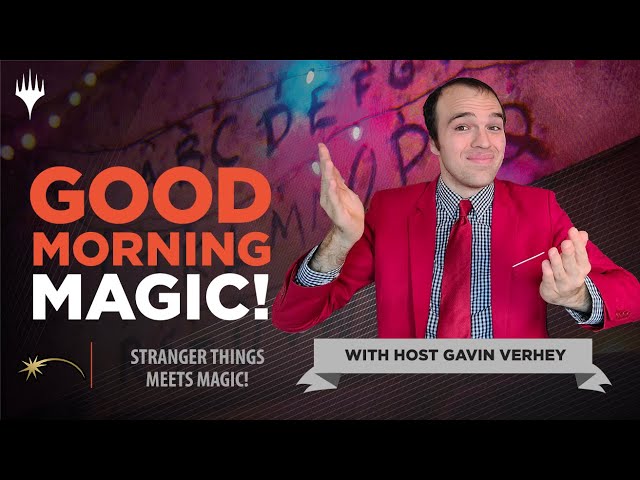 Apparently in response to some fan disappointment at new cards only being available inside premium, promotional Secret Lair products, the 'in-Magic' flavours of these cards will now also be added to "The List".
This means they'll crop up in randomised Set Booster packs for Magic's regular sets – and given a slightly higher frequency than normal, to give players a better chance of pulling them. They won't start finding their way into the boosters until six months after the Stranger Things Secret Lair drops, however.
First broadcast in 2016, Netflix's Stranger Things has released three seasons so far, with season four due to premiere in 2022. To stay up to date on when you can return to Hawkins, check out the Stranger Things Season 4 guide over on our sister site, The Digital Fix.
Check out some of the previous Secret Lair card drops for Magic – this year we've already seen limited edition cards for Black History Month, and a set inspired by psychedelic gig posters.
Alternatively, if you want to leap back into Magic, the quickest way is with the free-to-play digital version – you can play MTG Arena for free, right now.