Film and games industry art director and concept artist Pablo Dominguez has used his skills to visualise what a Warhammer 40k Henry Cavill might look like, with a 3D sculpted, hand-painted Space Marine version of the movie star. Dominguez shared his power-armored reimagining of the celebrity Warhammer 40k fan via his Instagram on July 29.
Dominguez says he was inspired by the excitement of learning that "[the guy who plays] Superman is a huge fan of 40k", and seeing Cavill's posts about the planned Warhammer 40k TV series or film. He says he plans to make another version of the model as an Adeptus Custodes, Cavill's favorite Warhammer 40k faction.
Dominguez first digitally sculpted the model using Zbrush. He says it was a challenge to create Space Marine armor that wasn't "oversized" and "goofy". He then made a physical version with his 3D printer. After that he used "regular" miniature painting tools to color the miniature; "brush, airbrush, sponge". "The face definitely was the most difficult" part of the painting process, he adds.
Dominguez says his favorite part of 40k is "the lore behind the minis… the fact the Emperor's been on the throne for 10,000 years, it's quite a unique and cool idea". He adds that he doesn't have any more 40k projects planned, though he would "love to work on the future show, of course".
Dominguez has worked as a concept artist for nine years, seven of them as a professional in the film, television, and games industry. His credits include Jurassic World Dominion, Obi Wan Kenobi, The War of the Ring, Transformers: Rise of the Beasts, and many more that you'll find on his ArtStation and Instagram.
The Warhammer 40k Henry Cavill love-affair has been public knowledge for years, long before he announced his involvement in the proposed Warhammer 40k film and TV collaboration between Games Workshop and Amazon studios. Cavill's openness about his fandom has earned him respect from 40k fans: here's an interview with him, talking about how he got the Witcher crew into painting Warhammer.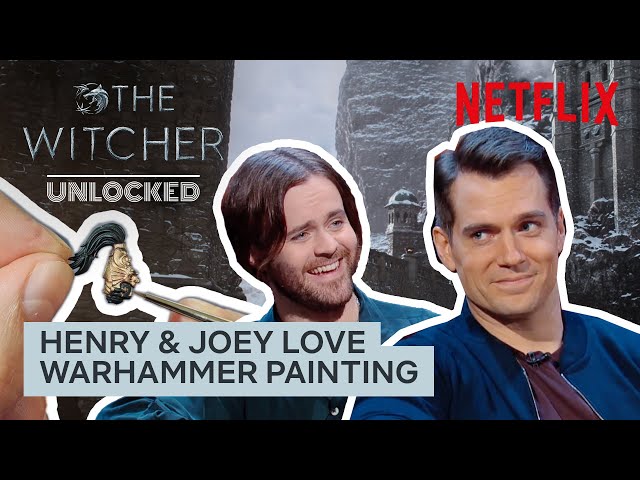 Hobbyists have been mashing up other properties with Warhammer 40k for a long time. Kirill Kanaev won the Crystal Brush painting award at Adepticon 2015 with a jaw-dropping scratch-built Space Marine with Daniel Craig's face; there were Warhammer 40k Darth Vader conversions long before the Star Wars Legion miniature wargame; and just Last Christmas we covered a total conversion of Magnus the Red into Hellboy