We were all pretty surprised to learn Disney was making its very own TCG, featuring beloved characters from the House of Mouse. The movie company partnered with game publisher Ravensburger to create Disney Lorcana, a card game where players bring together their favorite Disney characters for a storybook-style adventure.
Disney's empire spans more franchises than you can count on all your fingers and toes, but so far every revealed Lorcana character hails from the studio's animated movies. The trading card game is created by Ravensburger, which previously worked on Disney puzzles and the popular Disney board game Villainous (plus every Disney Villainous expansion).
Lorcana has gone down a hit with Disney fans – those who've been able to get hold of the cards that is. The first set came out in mid-2023, and we're now heading for the game's second release, Disney Lorcana: Rise of the Floodborn. Don't miss our Disney Lorcana review to see our thoughts on the game.
There's no need to wish upon a star for more information, we've got all the Disney Lorcana release date details right here.
Disney Lorcana release date
Disney Lorcana is releasing in sets called 'chapters', and the next one to come out is Chapter 2: Rise of the Floodborn. Disney Lorcana Chapter 2 release date is November 17 for game stores, and December 1 is when it'll appear on regular store shelves.
The release date for Disney Lorcana: The First Chapter was August 18, 2023 in United States game stores. It released internationally from September 1, 2023.
Disney Lorcana will reportedly release four sets a year. With the second coming November 17, we can assume future releases will be on a quarterly basis, but no more details have been revealed at this stage.
Disney Lorcana ink colors
At Essen Spiel 2022 (October 6 – 9), Ravensburger revealed the official names of the six Disney Lorcana ink colors. Each of the colors is linked to different cards in the TCG.
Here are the six official ink colors in Disney Lorcana:
Amber
Amethyst
Emerald
Ruby
Sapphire
Steel
Amethyst glimmers apparently rely on enchantments, while Sapphire glimmers are fond of using tools. Ruby glimmers "often leap without looking", while Emerald glimmers are highly flexible. Steel glimmers focus on brute force, and Amber glimmers instead prioritise defence.
We now have a pretty good idea about how different ink types work – to share some similarities with the various MTG colors, but there are some key differences (for starters, you'll notice there are six Lorcana inks and only five MTG colors).
Disney Lorcana cards
After some fans got their hands on the first batch of Lorcana cards at Disney's D23 event, more and more Disney Lorcana cards have been revealed all the time. So far, we've seen a multiverse of Disney characters, interpreted to create TCG cards. Here are a few of the most interesting ones we've spotted so far.
Starting with the nasties, we've got Maleficent, Monstrous Dragon; a big stompy villain that can 'banish' another character. There's also Cruella de Vil, Miserable as Usual; and Captain Hook, Forceful Duelist.
As for goodies, we have characters like Stitch, Rock Star; Elsa, Snow Queen; Mickey Mouse, Brave Little Tailor; and Robin Hood; Unrivalled Archer.
Olaf the friendly snowman and a Dragon Fire ability card showed up on Instagram in December 2022, expanding the cast roster. Meanwhile, a rogue Jumba Jookiba card was shared on the Disney Lorcana Twitter, all by itself on January 13, 2023. As expected, this 'renegade scientist' has got some alien alchemy going on.
Disney Lorcana decks and boosters
There are 204 Disney Lorcana cards available in the First Chapter, neatly packaged in a variety of products. However, right now demand is outstripping supply, and it can be quite hard to get hold of them.
Disney Lorcana starter decks
First up, we can expect to learn how to play using the three starter decks available at launch. These are 60-card decks with two 'ink' colors. Here are your ink choices:
Steel and Sapphire
Emerald and Ruby
Amber and Amethyst
We see some unlikely team-ups on the packaging of these starter decks. Sleeping Beauty's Aurora stands alongside Simba from the Lion King (Steel and Sapphire). A magical Mickey Mouse meets Moana in the Amber and Amethyst deck. Perhaps most surprisingly, Aladdin is teaming up with Cruella for the Emerald and Ruby deck.
Each starter deck also comes with a booster pack of 12 cards, and the 60 core cards include two foils of the characters on the packaging. The Disney Lorcana website says these decks also include tokens and a rulebook.
Starter sets cost $16.99 / £17.99.
Disney Lorcana booster packs
In general, the 12-card Disney Lorcana booster packs will have six common cards, three uncommon cards, one foil, and two cards that are rare, super rare, or legendary rare. Individual booster packs cost $5.99 /£4.99.
Disney Lorcana gift set
A dedicated Disney Lorcana gift set has also been shown off, with Mulan and Hades taking center stage. The set includes two oversized foil cards of these characters, as well as smaller, actually-playable versions. The card names are Mulan – Imperial Soldier and Hades – King of Olympus.
Also inside the gift set are 34 game tokens and four booster packs. You'll need to do all the deck building yourself with this one. This particular product is expected to set you back $29.99 / £27.99.
Disney Lorcana Illumineer's Trove
This is, as Disney Lorcana itself calls it, the "ultimate choice", the "ultimate treasure for both collectors and players". The Illumineer's Trove is a full-art storage box, with two deck boxes, eight boosters, a player's guide, and 15 game tokens inside. Expect strategy suggestions as well as plenty of visual Disney goodness in that player's guide. You should also expect a price of $49.99 / £49.99.
Disney Lorcana rules
As the game is out, we now know the full Disney Lorcana rules. Lorcana has plenty of features seen in existing trading card games, but it stands out by avoiding too much violence. Rather than focusing on head-to-head combat that reduces opponents to zero life, Disney Lorcana challenges you to be the first to earn 20 lore by 'questing'.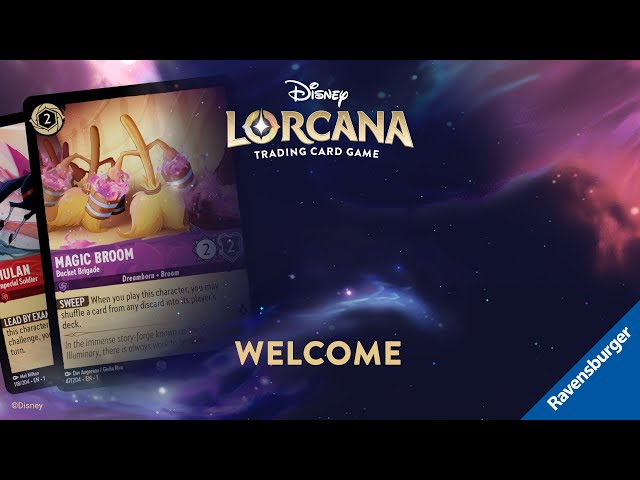 Players use 60-card decks, and they start a game by drawing a hand of seven cards. Ink cards are played to pay the cost of 'glimmers', which allow you to use characters, items, and actions to affect the state of play. 'Exerting' characters is important – turning a card to its side allows you to send it on quests, challenge an opponent's quests, or activate powerful abilities.
Disney Lorcana card types
So far, there are three main Disney Lorcana card types. Characters, Items, and Actions.
Characters are, as the name suggests, Disney characters. They're required to win the game, as you'll need them to gather lore, and to challenge and defeat other characters.
Items are important objects from Disney movies, like Rapunzel's Frying Pan, or Moana and co's Coconut baskets. They stay on the board and may provide a permanent effect. Others will need to be exerted or banished to activate them, and you can wait and choose when to do this.
Actions, meanwhile, are one time use effects, that are played and vanish right after you use them. Examples include Maleficent's Dragon Fire, which can Banish any Character.
Songs are a special type of Action card which can be paid for in a different way. You can exert Characters to 'sing' the Song card, playing it without ink. Some Characters are 'singers', which means they can be used to cheat out more expensive Song cards.
Disney Lorcana organised play
Like other famous TCGs, Disney Lorcana plans to have a tournament scene and organised play program. Players will earn League points for various activities – ranging from winning games (of course) to bringing a friend along, or teaching someone new how to play.
Qualifying LGS will receive promos and packs to help them run tournaments, and League play will be split into 12-week seasons.