Wizards of the Coast has released a free DnD adventure to give fans a taste of its upcoming book, Bigby Presents: Glory of the Giants. The adventure, Giants of the Star Forge, was created using content and random tables from the soon-to-release DnD book, with everything from plot, to encounters, to treasure, to characters' names lifted from its pages.
This is a 16th-level adventure, so to take it on you'll need to be a DnD party with some levels under your belt. The gist of it is a blacksmith has been kidnapped and taken to a big furnace in a meteor crater called the Star Forge. On the journey to get him back you'll meet some friendly Firbolg for tips and take out the Fire Giant kidnapper.
Once you actually get into the Star Forge itself, the adventure is a combat-centric affair that sees you hacking and slashing your way through some powerful new monsters (again, from the book). However, before this there is a neat opportunity to persuade a Red DnD dragon to get involved in the scuffle. It's always fun when you have an opportunity to parley with a character that has a strictly evil DnD alignment.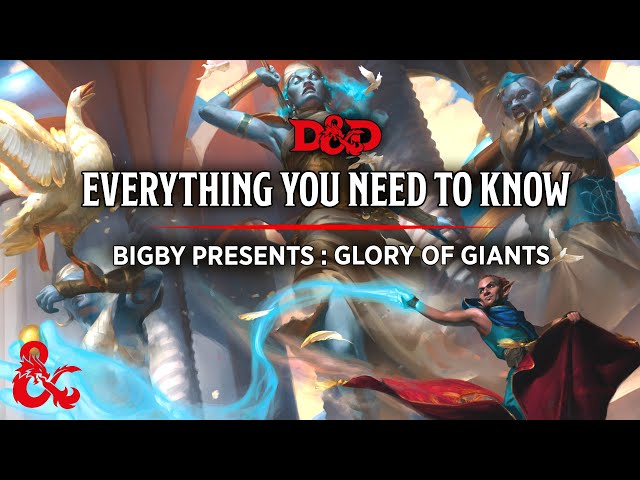 There's also a bit where you can take part in some giant-themed challenges, giving you a feel for the wider range of these DnD monsters. It's perhaps a little tonally incongruent to be taking part in fun and games when there's a ticking clock and a kidnap victim to save, but the contest ideas themselves are nice and varied. And hey, the whole thing's free – don't look a gift giant horse in its enormous mouth.
Giants of the Star Forge can be found on DnD Beyond where it can be claimed and added to your collection for free. It's a preview of some of what's available in Bigby Presents: Glory of the Giants. The next book on the DnD release schedule, this giant-themed tome has some truly grisly horrors, as well as a new Barbarian subclass, and releases August 15.
For more RPG night inspiration, check out our lists of the best DnD one shots and DnD campaigns. And don't miss our comprehensive guides to the DnD classes and DnD races.