A new year is upon us, and that means the DnD 2023 release schedule will soon kick off. Wizards of the Coast already whet our appetites in the summer of 2022, so keen RPG fans may already have an inkling of what to expect. The D&D goodies for this year include classic settings, new adventures, and (hopefully) plenty of mechanical goodies to play with.
If you're looking for the latest news on the next DnD books, our Dungeons and Dragons 2023 release schedule is the place to start. We'll keep you abreast of specific launch dates, as well as new info on what these books mean for DnD classes, DnD races, and DnD campaigns.
Here's the core DnD release schedule 2023:
Keys from the Golden Vault – February 21
Bigby Presents: Glory of the Giants – August 15
Phandelver and Below: The Shattered Obelisk – September 19
Planescape: Adventures in the Multiverse – October 17
The Book of Many Things – November 14
Vecna adventure – 2024
Red Wizards adventure – 2025
The eagle-eyed among you will spot a few titles in this list that go beyond the scope of 2023. These were teased in a 2023 D&D Direct stream – and while we know very little about them right now, they're still worth keeping an eye on as the year develops.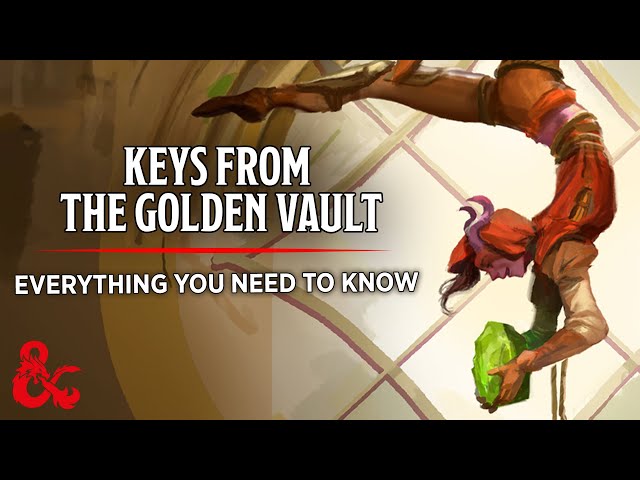 Keys from the Golden Vault
Release date: February 21
This is a "book of short adventures revolving around heists" that Wizards of the Coast originally said was scheduled to release in the first quarter of 2023. An Amazon listing that was spotted in November 2022 confirmed Keys from the Golden Vault would release on February 21. That day has been and gone, and we've got a Keys from the Golden Vault review that can tell you exactly what we thought of the anthology.
Keys from the Golden Vault is another anthology book in the same vein as Candlekeep Mysteries and Journeys From the Radiant Citadel. Wizards describes it as "Ocean's Eleven meets D&D", which got our hopes up for a glitzy casino-filled book that's a cross between MTG's Streets of New Capenna and classic crime RPG Blades in the Dark. Inside the book we found all manner of creative heists, ranging from prison breaks to train robberies.
Bigby Presents: Glory of the Giants
Release date: August 15
This summer, Wizards released Bigby Presents: Glory of the Giants. Wizards calls this book "a companion to last year's Fizban's Treasury of Dragons focused on giants". This was one of the less surprising announcements of 2022, given that a Giant Options Unearthed Arcana playtest had been shared just a few months earlier.
You won't actually get to play a giant. But there's plenty of giant-themed, DnD magic items, 5e feats, and DnD monsters (the last of which make up over a third of the book). Glory of the Giants isn't too desirable if you want new character options, though, as it offers just one new Barbarian subclass.
Glory of the Giants was the first book this year to be affected by Wizards of the Coast's price increases. To find out if it's worth the money, check out our Bigby Presents: Glory of the Giants review.
Phandelver and Below: The Shattered Obelisk
Release date: September 19
Originally referred to as the 'Phandelver Campaign', Phandelver and Below: The Shattered Obelisk promised to "expand the classic Lost Mine of Phandelver into a full campaign tinged with cosmic horror".
According to the March 2023 D&D Direct (see below), this book would "further explore the mystery of the obelisks that have cropped up in so many of our adventures". These obelisks can be spotted in past DnD campaigns like Descent into Avernus and Tomb of Annihilation, and now one of them seems to be wreaking havoc in Phandalin.
Lost Mine of Phandelver originally served as D&D's starter adventure until it was replaced by a new starter set in 2022– one that included Dragons of Stormwreck Isle as its new beginner adventure. The name Phandelver has long been synonymous with 'standard dungeon affair', but the new campaign seems like it'll shake things up with some Far Realm shenanigans.
We've taken a trip back to Phandalin for our Phandelver and Below review, and we think the campaign's new editions are a gruesome but great time.
Planescape: Adventures in the Multiverse
Release date: October 17
Next up is Planescape: Adventures in the Multiverse, a return to Planescape, the classic DnD setting of old. Planescape is a 1994 campaign setting that introduced the city of Sigil and expanded our understanding of the different D&D planes. It gave us our first look at the DnD Tiefling, and it encourages plenty of plane-hopping using portals and steampunk-ish style.
The original announcement by Wizards said, "fans can explore Sigil, City of Doors, with a setting guide, a bestiary, and an adventure in one package", Wizards says in a press release from 2022. We later found out just how hard the new books would riff on Planescape Torment.
By the sounds of it, this book will look a lot like the recent Spelljammer reboot. And while the return of a beloved setting is exciting, our Spelljammer: Adventures in Space review criticised D&D for spreading its material too thin across three different types of books.
The Book of Many Things
Release date: November 14
Like Bigby Presents: Glory of the Giants, The Book of Many Things was teased in an Unearthed Arcana post ahead of its actual announcement. As well as exploring plenty of play options linked to DnD planes (more on that shortly), the playtest introduced a collection of 5e spells tied to the Deck of Many Things.
Wizards later confirmed these magical tarot-like cards will be joined by The Book of Many Things in the summer of 2023. This will be "a collection of creatures, locations, and other goodies that are connected to the mysterious Deck of Many Things".
Vecna adventure – 2024
The D&D Direct in March 2023 promises "a major D&D villain will be making his long-awaited return" in 2024. More specifically, they're talking about Vecna, a classic adversary who found a new lease of life after starring in the TV show, Stranger Things.
A free Vecna stat block and adventure were released in 2022, so we already have some idea of what Vecna is going to look like in 5e. Other than that, we don't know much about this book yet. It might be called Vecna's Reign of Terror, or that might just be a fun turn of phrase used in the stream. All we do know is Wizards promises a "cosmic horror" with "a world-hopping adventure that both celebrates our 50-year history and reveals even deeper plots for years to come".
Red Wizards adventure – 2025
Another famous set of villains returns even further down the line in 2025. The Red Wizards of Thay, recently spotted in the Dungeons and Dragons movie, Honor Among Thieves, will be getting their own "epic story" in 2025. That's literally all the news on this book for now. We'll keep our eyes peeled for any more wizardy updates, though.