On Thursday, a decade after the original game dropped in 2011, developer Saber Interactive and publisher Focus Entertainment surprise-announced that Warhammer 40k: Space Marine 2 is on the way. We don't have anything close to a release date, or too many concrete details – but what we do have is an action-packed trailer (watch it below) showing not only CGI of Ultramarines Primaris Space Marines chopping up Tyranids, but also some snippets of actual gameplay.
Revealed on Thursday night at the 2021 Game Awards event in Los Angeles, California, the 'World Premiere' Space Marine 2 trailer shows the original game's hero Captain Titus (now upgraded from firstborn to Primaris marine) descending onto an imperial world under attack by the ravening, insectoid Tyranids, to assist its beleaguered Imperial Guard defenders, primarily by means of chainsword-based ultraviolence.
And, in the closing moments of the trailer, we get seven-and-a-bit snatched seconds of gameplay footage, showing off Space Marine 2's graphics as Titus slams down on enemies from above, wades through seas of chittering space bugs, and stalks heavily through the preposterous, imperial gothic architecture.
This time around, Captain Titus will be played by Amazon Prime 'Vikings' star Clive Standen, who takes over from Mark Strong in the original Space Marine. No other voice cast members have been confirmed just yet.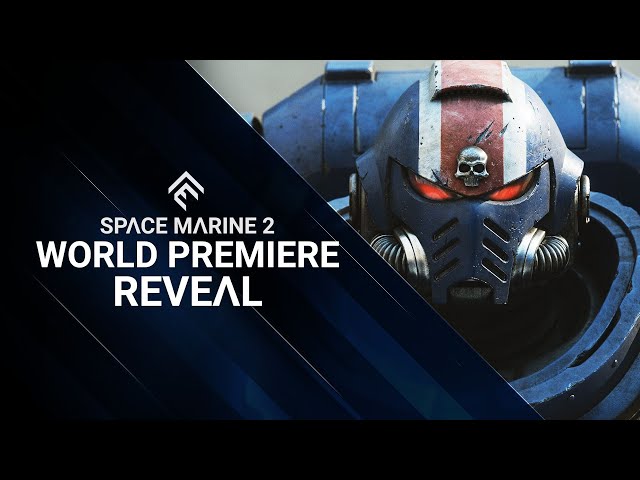 The original Space Marine sits comfortably near the apex of our list of the best Warhammer 40k games ever – so expectations will be high for this sequel when it arrives (presumably no earlier than late 2022, though we dare to hope for more news on that front come the new year).
Focus says Space Marine 2 will come on PC, the PlayStation 5, and Xbox Series X/S consoles.
And Games Workshop's official Warhammer Community site has promised more reveals about the game throughout Friday, so keep your eyes peeled for more Space Marine 2 details emerging – we'll keep this story updated with the latest.
If you need a catch-up on the first Warhammer 40k: Space Marine videogame, check out its entry in our guide to the best Warhammer 40k games.
Want a deeper lore dive? Learn all about Captain Titus' blue-armoured Space Marines chapter in our Ultramarines guide. Or go all in on the Adeptus Astartes with our comprehensive guide to Warhammer 40k Space Marines.