After weeks of dev diaries exploring its content and features, Hearts of Iron 4's upcoming DLC finally has a name, and a trailer to boot. Revealed today during publisher Paradox Interactive's PDXCON Remixed livestream, No Step Back will be the next expansion for the WW2 grand strategy game, and have a Soviet theme. Although billed as a celebration of Hearts of Iron 4's fifth anniversary on June 6, an exact release date hasn't been revealed.
The teaser trailer (watch it below) is fairly light on content, cutting between several shots of a tank manufacturing plant, while Soviet choral music plays in the background. The DLC's logo appears in a distinctly Russian typeface, and the trailer ends by addressing the viewer as 'Comrade', just in case there was any lingering doubt that this expansion will focus on the Eastern Front.
Much of the expansion's content has already been revealed by Paradox through a series of dev diaries. No Step Back looks to be a fairly meaty DLC, adding multiple new mechanics, making big changes to several nations' focus trees, and overhauling existing systems for more depth.
Biggest among them is the set of bonkers paths coming to Poland's focus tree. The country will have access to three chunky, multi-branched, alternate-history pathways, which could lead to Soviet-aligned communism, a fascist state aligned with Germany or Spain, or have you re-establish Poland's monarchy.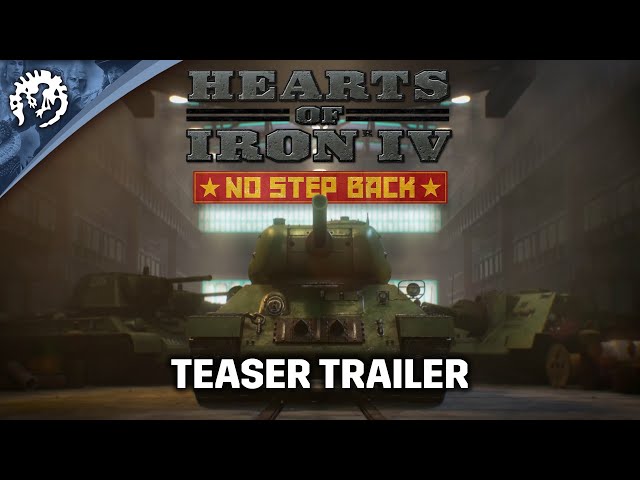 Similarly, the Baltic nations of Latvia, Lithuania, and Estonia are receiving new focus trees, offering different means of buddying up to the Allies or Axis forces, as well as moving towards Communism. A tank designer, similar in concept to the ship designer introduced in the Man the Guns DLC, will also let you customise the chassis, weapons, engines, and modules of your armoured units.
As is tradition with Paradox games, No Step Back will be accompanied by a free update. The 1.11 Barbarossa patch will similarly add more focus tree depth for Poland, to better replicate its historical and political choices, as well as overhaul the game's combat width meta, and alter its supply system.
We'll continue to cover each new dev diary as it's released, so watch this space for updates on the features and content of this upcoming DLC.
In the meantime, why not check out our pick of the best Hearts of Iron 4 mods, or have a read of our DLC guide?